College endures and adapts through twists, turns of pandemic
By Andrew J. Concatelli
Photos by Nick Caito and Jyles Romer '20
The emergence of the COVID-19 pandemic during the spring 2020 semester brought with it countless unforeseen challenges. Through them all, teamwork across all areas of campus enabled Trinity College to remain steadfast in its mission of preparing students to be bold, independent thinkers who lead transformative lives—even in the most unpredictable times.
Planning Trinity's emergency response
The global health crisis unfolded at a scope and speed never before encountered by the college's Emergency Management Team (EMT), which for more than two decades has met twice monthly to prepare for and manage a wide variety of emergency situations. EMT leader and Director of Campus Safety Brian Heavren says that the team was aware of the emerging health crisis in January and established COVID-19 response working groups to bring in partners from across the institution, including members of the offices of the Dean of Students, the Dean of the Faculty, Communications, Information Services, Calendar and Special Events, Facilities Services, Campus Safety, the Health Center, and more.
For several weeks in February and March, the EMT met daily for long, intense sessions in a library conference room that served as the Emergency Operations Center (EOC), establishing details of how the college would respond to the pandemic. President Joanne Berger-Sweeney named Vice President for Information Services and Chief Information Officer Sue Aber and Vice President for Communications and Marketing Angela Paik Schaeffer to lead the COVID-19 response team as it prepared recommendations to the president and Board of Trustees on actions to take.
Inside the EOC, the situation was changing rapidly. The pandemic first impacted international students from China, some of whom could not get to Hartford in January due to travel restrictions, and students who planned to study at Fudan University, home to the Trinity in Shanghai program, which delayed its spring semester.
Then the virus took hold in Italy, and Trinity announced on February 29 the suspension of its Trinity in Rome program, just weeks ahead of a planned celebration of the 50th anniversary of the program. Two weeks after that, the college decided to bring all students home from study-away programs around the world.
On March 11, the college announced that a two-week period of remote learning would start after spring break to lower the likelihood and impact of a potential outbreak on campus. The same day, the New England Small College Athletic Conference announced the cancellation of the spring sports season. Less than a week later, with the health crisis expanding quickly in the United States, Trinity extended its plan for remote learning through the end of the spring semester.
Remote learning began following spring break, on March 23, by which time most faculty and staff members were working from home, except for those directly supporting students or essential services on campus. Even the EMT itself began to operate virtually.
Heavren says that throughout the endeavor, decisions were made carefully and collaboratively, with each person around the table bringing a unique perspective on the common goals of health and safety. "The team did a very good job of brainstorming and pulling together work very quickly. These people are truly committed to the college, its students, and staff," he says. "This is the longest sustained emergency operation I've been involved in. It has unique challenges, and it's evolved."
Martha Burke O'Brien, A.P.R.N., practice director of student health services for Hartford HealthCare Medical Group and director of the Trinity College Health Center, says that any residential institution faces a difficult situation during a pandemic. The college based its public health response on best practices from the Centers for Disease Control and Prevention, the American College Health Association, and partners at Hartford HealthCare. "That partnership and the access to information and resources was crucial," O'Brien says.
Supporting students during transition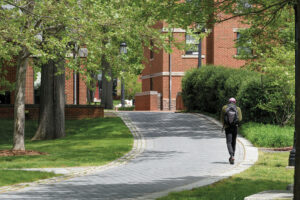 One EMT working group concentrated on supporting students during the transition to remote learning, helping them return home or looking after their safety on campus.
Senior Associate Dean of Students Ann E. Reuman says, "We tried to quickly help people get closer to home, if possible, where at the time it was generally safer for their health and well-being." Students faced challenges when trying to book air travel, and many international students had to remain in the United States when countries closed their borders to incoming flights. "Those were difficult times for many; there were a lot of unknowns, and people were understandably anxious," Reuman says.
In the months following the start of the pandemic, alumni, parents, and friends donated more than $5 million in support of Trinity students. Many alumni and families directed their gifts to the Student Emergency and Equity Fund (SEEF), which provides students with financial assistance for emergency expenses and helped with costs related to travel, technology, and shipping and storing belongings. The Student Government Association (SGA) collected unused funds from student organizations to donate to the SEEF. "The biggest priority was getting students home, and that included paying for educational supplies to make the most of remote learning," says then-SGA President Trinna Larsen '20. The SGA also created a Trinity College Student Mutual Aid spreadsheet for students to offer or ask for resources—including rides, off-campus housing, and more.
SEEF funding also provided laptops and internet service for students. Federico Cedolini '22, head consultant for the Information Services Desk, contacted internet providers to find free or low-cost options. "This work was very important to me because I knew that if I had gone back home to Argentina, I would have been in the exact same situation as these students because my parents don't have internet access at home," Cedolini says.
In addition to refunding partial room and board fees to students taking remote classes, the college later applied for and distributed funds from the federal government's Coronavirus Aid, Relief, and Economic Security (CARES) Act directly to eligible students to help them manage unplanned expenses during the pandemic.
Initially, about 400 students with nowhere else to go continued living on campus after spring break; the number declined throughout the semester as students made their way home or found other accommodations. To comply with state guidelines, all food service was grab and go. Likewise, the end-of-semester move out was scheduled over several weeks to avoid having too many people in the same areas at once.
While Baccalaureate for the Class of 2020 was held virtually, Commencement was postponed till 2021, as was Reunion. With other on-campus events canceled during much of the spring semester, departments and offices turned to virtual gatherings. For example, the college's Office of Student Activities, Involvement, and Leadership (S.A.I.L.) held Zoom game nights and hosted its Spirit Week and annual awards announcements on social media. "We know this doesn't replace the in-person traditions, but we think it's a good alternative … to keep everyone connected and safe," says Sarah Lucas, assistant director of S.A.I.L. Students also could access staff from the Office of Spiritual and Religious Life, the Writing Center, the Counseling and Wellness Center, and more through remote meetings and programs.
Remote operations, distance learning
Information Services helped faculty and staff obtain equipment needed to work remotely. "We repurposed every laptop in our inventory and some from our computer labs," says Fred Kass, assistant vice president for information services and associate chief information officer. "It was all about finding the best ways to help individual people; one solution just couldn't solve everything."
All employees and students were given access to Zoom, the now-ubiquitous video web-conferencing tool. "Trinity accounts hosted about 17,000 Zoom meetings in about 90 days," Kass says. "This didn't slow down in the summer; we were holding around 200 Zoom meetings a day."
Read more about How Trinity College Went Remote
In March, the college's faculty made history by holding its first-ever virtual faculty meeting, via Zoom, with more than 200 people in attendance. Virtual Board of Trustees meetings and virtual town hall webinars soon followed, signaling a new era in the college's governance and a new way of doing business. The Admissions Office, with its focus on the future, worked almost entirely remotely to admit and enroll 610 students as the Class of 2024.
Faculty members adapted to remote teaching with only a few weeks' notice and developed a variety of creative solutions. Some instructors held classes synchronously via Zoom, while others assigned projects or opened discussion boards using learning platforms such as Moodle.
Assistant Professor of Theater and Dance Peter Kyle kept "Making Dances" students engaged by having them watch dance videos and then choreograph and record their own performances, wherever they happened to be. "They each uploaded their video so that everyone in the class could see it and comment and critique it. This pivot gave them the creative freedom to think more expansively and build upon what we had started in the studio," Kyle says. "They were supportive and encouraging of one another and grew in important ways by staying adaptable."
Certain courses were better suited to remote learning than others, and some faculty and students faced difficulties relating to time-zone differences and communicating solely via technology. Reuman, from the Dean of Students Office, says that with the academic experience at the heart of Trinity's mission, a lot of time and effort was spent working with individual students to help them continue to make progress toward their degree. "We were helping to support and guide students to make use of the new academic measures that were put in place to provide more options, like changing a course to pass/fail after the grade has come in at the end of the semester," she says.
Associate Professor of Computer Science Madalene Spezialetti celebrates her "Introduction to Computing" class. Watch the video.
Fall 2020 and beyond
The financial impact on the college was felt almost immediately and is sure to be long-lasting, as it is throughout the national and global economies. Despite encouraging fall enrollment numbers and generous gifts from alumni, parents, and other donors supporting students at a crucial moment, Trinity made difficult budget choices in anticipation of a sizable deficit this fiscal year. In late June, Berger-Sweeney announced strategic cuts to personnel and operating budgets across all divisions. "We must set a new baseline of operations partly so we can invest, innovate, and grow as we emerge from the pandemic," she said.
Taking into account the latest science and government guidelines—as well as the concerns and preferences of the Trinity community—college administrators and the EMT continued to meet virtually all summer to plan for a phased return to campus this fall. Following detailed guidance from the State of Connecticut—which saw consistently improving health conditions from late spring into summer—the team was developing plans to submit to the state for how Trinity would repopulate its campus, monitor health conditions, contain spread of the virus when detected, and shut down campus in the event that conditions require it.
The faculty voted in June to approve a modified 2020–21 academic year calendar, designed to give students and their families more flexibility over four terms: fall and spring semesters, plus a 5-week optional remote January term (J-Term), and a 5-week optional in-person summer term (assuming conditions allow). To accommodate student and faculty needs, fall courses are being offered in three formats: in-person, hybrid, or remote. Remote and hybrid options are especially important for students and faculty who cannot be on campus. Fall and spring courses will be 10 or 13 weeks, depending on the needs of the course; all in-person fall classes will end by the November break, with the 13-week courses concluding remotely.
In preparation for the fall, physical spaces on campus were evaluated to ensure proper social distancing. Desks and chairs were spaced six feet apart, classrooms were equipped with technology to support hybrid courses, and larger spaces such as the Washington Room were converted into nontraditional classrooms. Detailed informational signage—with the theme of "Protect the Nest"—was installed throughout campus.
The college also plans to employ ongoing testing procedures and contact tracing throughout the fall. O'Brien, noting that social distancing is the number-one way to prevent transmission of COVID-19, adds, "Everyone has to take responsibility for not only washing hands and wearing masks but also cleaning common areas so we aren't exposing each other. And if you are ill, stay in your bed. We ask everyone to join us in our public health efforts."
As Berger-Sweeney said in a letter to the Trinity community in May, this unprecedented period in the college's history has presented challenges that could only be addressed with creative, cooperative responses. "This is not a time for Trinity to merely get by, or for us to work in silos, or to think narrowly about the implications of various scenarios," she wrote. "Rather, this is a time to put to use our training in the liberal arts: to collaborate, to look at wicked problems from all angles, to ask questions no one has asked, and to devise solutions that will move Trinity forward."
For more details on the college's COVID-19 response, please visit https://www.trincoll.edu/reopening/.