Newly completed facilities enhance Trinity experience for athletes and spectators alike
By Rhea Hirshman
Sitting in a place of honor on a shelf in the office of Thomas DiBenedetto '71, P'08, '12, '13, '15, '17 is one of his most cherished possessions: the game ball from the last football game he played at Trinity, a 24–14 win over rival Wesleyan in the fall of 1970, with DiBenedetto in the middle linebacker position.
Beating Wesleyan was thrilling. But what DiBenedetto says he remembers most about Trinity athletics is how hard he and his teammates worked, how much they depended on each other, and how they pushed each other to reach their full potential both on and off the field.
Now, more than four decades after taking home that prized football, DiBenedetto, chairman of Jefferson Waterman International, remains committed to Trinity athletics. Most recently, he is among a group of Trinity alumni, parents, and friends who have supported a completed $6.2-million project — the Fields of Excellence — to relocate and build new fields for Trinity's programs in baseball, softball, and soccer; DiBenedetto's name adorns the baseball stadium. Fundraising is ongoing for the fields, which were dedicated on April 1, as well as for a $4.5-million project that renovated Jessee/Miller Field, which was ready for play in fall 2016, and created new soccer fields, which will be used starting in the fall.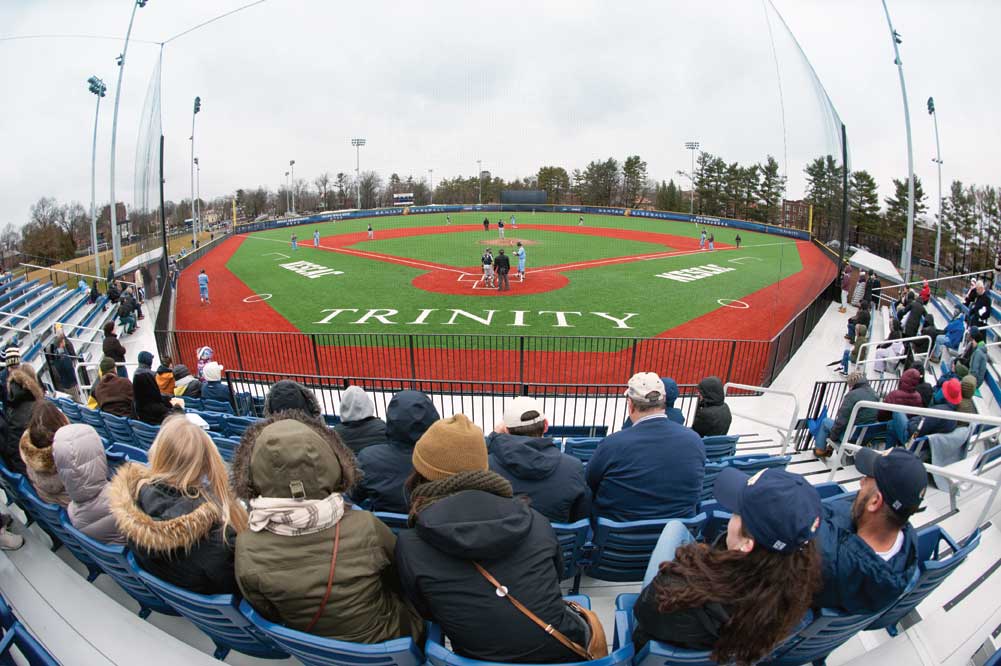 Another of the project's key donors was Jim Murren '83, who played varsity baseball at Trinity and today is a member of the College's Board of Trustees and chairman and CEO of MGM Resorts International. The new baseball field bears Murren's name. "My company specializes in 'place making,' creating environments and experiences for people to communicate, engage, and be inspired," he says. "Open spaces such as these fields are vital to the college experience."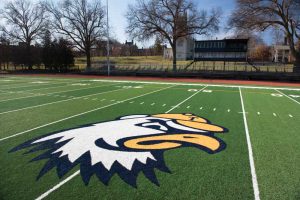 In that spirit, says Mike Renwick, Trinity's director of athletics, the planning for the fields focused both on creating state-of-the-art athletic facilities and enhancing the overall student experience. The fields — two natural grass (softball and soccer) and one turf — provide a superior playing experience for varsity teams. The turf baseball field will also allow greater opportunities for recreational and club use during the fall, and improved lighting provides greater flexibility in game scheduling. For spectators, there's more comfortable seating and easier-to-read scoreboards, and a hardwired Internet connection allows for improved live streaming for those who cannot attend.
Athletics have long been an integral part of a Trinity education. Currently, about one-third of the student body is involved in varsity sports, while a significant number also play intramural activities within the campus and/or club sports in competition with other schools.
"Athletics are part of the fabric of daily life at the College," says Joseph "JP" Marra '90, principal of Blue Elephant Capital Management, who played both soccer and baseball at Trinity and is another supporter of the Fields of Excellence project. "We are a small school, and the playing fields are right in the middle of campus. Athletes are not separated from the rest of campus life."
Current athletes are pleased with the new fields. Economics major Johnny Stamatis '19, an infielder on the varsity baseball team who has played ball since he was 4, says his teammates are grateful every time they set foot on the new fields. He is particularly enthusiastic about what the improvements will mean for recruiting. "Anyone who tours the campus or comes to watch a game will be impressed with the quality of the athletic complex," Stamatis says. "The new baseball field will increase interest among top high school players who want to play at the next level."
For Rachael Smith '18, an anthropology major and biology minor who is a pitcher and co-captain for varsity softball, the relocation of the softball field means greater visibility for her sport. Like Stamatis, she has been involved with athletics for most of her life and, like many of her fellow student-athletes, is also engaged in numerous other campus activities, including mentoring first-year Trinity students and local schoolchildren and working as a lifeguard.
"Our student-athletes take advantage of the entirety of what the college experience is meant to be," says Renwick, adding that Trinity's membership in the New England Small College Athletic Conference (NESCAC) puts the College in the company of 10 other highly selective schools that believe in athletic programs that support each school's educational mission.
Smith notes that her grades tend to improve during softball season. "Our coaches understand that academics come first," she says. "That being said, if you don't budget your time to study for an exam, that doesn't mean that you can skip practice. Being an athlete actually keeps me more on top of my academic work."
DiBenedetto echoes those sentiments, noting that in his senior year, he was working on and off campus and doing a thesis, as well as playing football. Both DiBenedetto and Marra said they've carried the lessons of time management, teamwork, discipline, honorable competition, and accountability through their lives and careers.
Marra, who confesses to being "a little bit jealous" of the student-athletes now using the facilities his generosity helped build, explains his enthusiasm for the project this way: "What I look back on is the opportunity for growth and camaraderie and the culture of accountability within the team about what you accomplish in the classroom and how you act both on and off the field."
And, as for why he supported the Fields of Excellence project, DiBenedetto, whose five sons have worn the blue and gold, says he has always cherished his liberal arts education. "Learning through the Socratic method teaches you to think on your feet and communicate clearly," he says. "Athletics and academics both taught me mental preparation and focus. And the lessons about strategy that I learned on the field have been central to my career success. If having better facilities can provide the entire Trinity community a better place to play sports and to develop their potential, I gain a lot of satisfaction from helping make those facilities a reality."
For more information about the Fields of Excellence and how you can support the project, please contact Assistant Director of Leadership Giving Shannon Malloy at shannon.malloy@trincoll.edu or (860) 297-4232.