Alumni brothers and their mom enjoy sweet taste of success
by Mary Howard
Photos by Don Hamerman

With the same determination they showed on Trinity's rowing team, Nate '10 and Will '11 Kelly are getting their all-natural granola on the shelves of major retailers, such as Whole Foods and ShopRite. "We want to be a local company that can compete nationally," says Nate.
It seems they are on the right path. Kelly's Four Plus Granola can be found at locations throughout Fairfield and Westchester counties, Manhattan, and the Hamptons.
Nate and Will run the company with their mother, Cordy, who has a knack for baking amazing granola. "If people try it, they will like it," says Will.
The company grew out of Cordy's desire to produce a healthy snack for her four active children. "We were going through a lot of granola," she says. "I've always been a baker, and I thought, 'I can make this.' " From the first batches, it was apparent she was onto something special. "My kids kept telling me I should sell it," but starting a business wasn't on her radar. Finally, she relented, at least a bit. "I told them I'd consider it, but only if people outside our family liked it."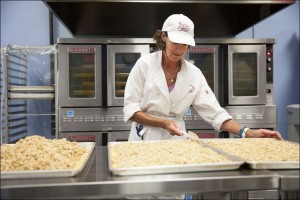 In the fall of 2011, Nate brought bins of his mom's granola to regattas and training sessions at the Maritime Rowing Club in South Norwalk, Connecticut, where he and Will learned to row and where they both trained and coached. "It was like watching vultures over a carcass," says Nate. The rowers devoured Cordy's granola and wanted to know where they could buy more. "So we started putting our homemade granola in bags and selling it at the boathouse," says Cordy.
In the spring of 2012, the family decided to test the waters further by selling their granola as part of the New Canaan High School crew team's spring fundraiser. They sold 800 bags. "We were shocked," says Will. They scrambled to fill the order, transforming their kitchen into a production line. Buoyed by their success, the Kellys turned their attention to selling Four Plus to Fairfield County farmers' markets and Peter B's Espresso, a coffeehouse in Trinity's Raether Library and Information Technology Center. "The manager of Peter B's ordered 12 bags, and they were gone the next day," says Nate. The café is now a regular seller.
What's the secret behind Four Plus? "It's just four simple, honest, healthy ingredients," says Nate. All six flavors start with rolled oats, canola oil, honey, and maple syrup. To that, Cordy adds raw nuts, dried fruit, or dark chocolate. "Four ingredients, plus the add-ins," says Will. "That's how we came up with the name." There are also four children in the Kelly family, "plus my husband," adds Cordy.
"Four plus is also a rowing term–four rowers, plus a coxswain," says Will.
Working in the family business was a perfect fit for Nate and Will, both political science majors at Trinity. Nate, a "natural-born salesman" according to his family, focuses on marketing and sales for the company and enjoys face-to-face interactions with grocers and customers. He admits to blundering through his first few sales pitches, but, through trial and error, he learned to target his audience. His experience at Trinity helped. "I broke out of my shell and became more comfortable in my own skin, not afraid to try new things."
Will handles the day-to-day business, managing relationships with vendors and keeping the books and records. He also has a reputation as the family problem solver. When Four Plus outgrew the Kellys' kitchen, Will set up the company's commercial kitchen in South Norwalk.
"He knew nothing about commercial kitchens," says Cordy. "But he took it on single-handedly and did a beautiful job." She credits Trinity's focus on critical thinking and problem solving for giving her sons the ability to succeed in tasks outside their comfort zones.
Nate fell in love with Trinity when he first stepped on campus as a high school junior in the fall of 2004. "I was really excited to be there. The guys on the [rowing] team reflected well on the student body," he says. It was the first school he looked at and the only one to which he applied, early decision.
Will had no intention of following in his brother's footsteps. "I was excited to go out on my own," he says. But his search for a small liberal arts school with solid academics and a strong rowing team led him to Trinity. A meeting with the men's crew coaches and an overnight with his brother solidified his decision.
Dedicated alumni, Will and Nate try to visit Trinity as often as possible for alumni events, "especially the spring rowing banquets and championship regattas," says Nate.
From the beginning of their Trinity careers, the Kelly brothers distinguished themselves as hardworking, talented, and ambitious leaders. "They are personable, charismatic young men with incredible work ethics," says Kevin MacDermott, head men's rowing coach at Trinity, who coached the Kellys through multiple New England and Eastern College Athletic Conference (ECAC) championships. Both brothers were elected captain of the men's rowing team, Nate in 2009-2010 and Will in 2010-2011. MacDermott is not surprised by the brothers' success. "Their competitiveness in rowing crossed over into their business," he says.
Now in their third year of running Four Plus, Nate and Will are looking to expand their markets in New York and Connecticut and move into northern New Jersey. And they still have a competitive spirit in athletics. Though a hip injury sidelined Will's rowing career, he connected with some of his crew friends to run the Hartford Half Marathon this past October. Nate still gets to the Norwalk River at 5:30 on most mornings, "ready to throw down," he says. He has aspirations for the national rowing team regattas "as long as my body holds up."
And how do they fuel their busy lives? Kelly's Four Plus Granola, of course. Will eats a bowl of vanilla almond every morning, while Nate goes through three bowls of the nutty flavor a day, "with extra chocolate chips."