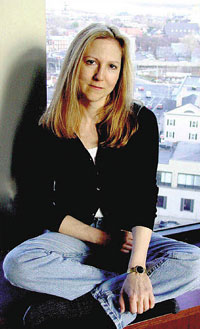 DEGREE: B.A., English
JOB TITLE: Visual artist working in many mediums; 36 years as book editor and proofreader
FAVORITE TRINITY MEMORY: Getting thrown in the Housatonic River several times after coxing the women's crew to win. I wasn't very good at being a cox, but the women's crew was unstoppable, and there was nothing like the feeling of being in that boat, with everyone pulling so powerfully in unison.
REPORTER: How did your career as an artist begin?
MOORE: I'd been making art since early childhood, but things really began percolating in the late '90s as a result of reading The Artist's Way, by Julia Cameron, along with a group. I went into this group thinking that I was finally going to write the young adult novel I'd been pondering and instead ended up creating my first painting. That painting ended up being the first work of art I ever sold, at my first exhibition.
REPORTER: What is your favorite medium to work with? Why?
MOORE: This may sound weird, but my favorite media are Crayola crayons and watercolors. This happened in response to the life-changing workshop mentioned above, when the group's leader asked us to go home and make a "creativity doll" while keeping in mind what made us happiest as children. What made me happiest was sprawling on the floor of my playroom while drawing with crayons. So, on a large slice of gorgeous handmade paper, the adult me painted a large chameleon using crayons and paint and titled it "Self-Portrait," the idea being that women in particular shed and grow new skin as we assume a multitude of roles over a lifetime. At this point, I have created and sold a substantial body of work using these materials, along with graphite, metallic paint, gouache, and colored pencil. I also create knitted "blanket statements" and woodcuts, all of which can be viewed on my Web site (www.nancymooreart.com).
REPORTER: What is the most rewarding part of your work?
MOORE: For me, the best part of painting is that magic that sometimes happens between idea and execution, when I see that I've translated what was in my head onto a physical surface. It's icing on the cake when a viewer "gets" what I'm trying to communicate. It's a terrifying process, presenting my work to others, but I do it often and widely because it seems important to get my art out there. The other thing I love about art is that it seems to be a safe way to discuss topics that are, in other contexts, hot buttons. After my son came out as transgender, I looked to my art to express my confusion and my awe. I began knitting and framing "blanket statements," baby blankets that address the topic of transgender. That's when I approached a gallery about curating a show about the continuum of gender identity, and it ended up being a huge success, with artists from all over the world representing their work on this theme. Curating is now one of my favorite things to do. Artistically, I've moved on to other subject matter and am presently painting a series of "unconventional women," exploring the idea of nontraditional beauty and traditional women's roles.
REPORTER: Which course at Trinity had the biggest impact on you? Why?
MOORE: That's a tough one, because I experienced an embarrassment of riches when it came to professors and courses at Trinity. Judy Dworin's dance classes were transformative for me. The revelation for me was that any "body" could participate–the class had all shapes and sizes, including mine, which had become unrecognizable to me as I ate my way through my unhappiness at school. In those classes, I came to accept myself in a new way. Another impact came from the Fine Arts Department in the person of George Chaplin, a disciple of Josef Albers at Yale, who graciously took me on as an independent study student. Chaplin took a look at the black and white drawings I made during freshman year and said, "This is where you live." His only requirement was that I put down my Rapidograph pen and begin working in color–after all, color theory was Chaplin's thing! His patient and generous guidance laid an artistic foundation that I could build on much later in my life.