The Film & History conference is an annual gathering of scholars who present the latest in research on the intersection of film and history. For several years now, Trinity Classics professors Dr. Meredith Safran and Dr. Vincent Tomasso have attended the conference and presented their work. In addition to giving talks, for the last three years Dr. Safran has also organized the classical antiquity area, a thematically-linked set of panels that typically number around 10!
The theme for this year's conference was "home." Dr. Safran examined this theme in Virgil's epic poem the Aeneid and in the science-fiction television series Battlestar Galactica. She argued that both Aeneas' Trojans and Battlestar Galactica's Colonials must deal with the destruction of their homes in ways that reveal continuities between the two narratives. We're looking forward to hearing more about Dr. Safran's ideas when her book about the Aeneid and Battlestar Galactica is published soon!

Dr. Tomasso used the theme of "home" to examine how the 2017 film Wonder Woman erases the title character's connections to the United States. Dr. Tomasso demonstrated how these links were prominent and explicit in the 1941 version of Wonder Woman, as well as how the film went out of its way to problematize American identity. Dr. Tomasso connected these changes to evolving ideas about the United States' connection with classical antiquity.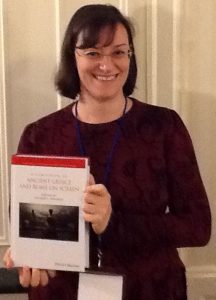 Every year, publishers set up a table at the conference with books about the subject area available for purchase. This year, A Companion to Ancient Greece and Rome on Screen (Blackwell 2017) was available. Dr. Safran has written a chapter for that book, entitled, "Greek Tragedy as Theater in Screen Media," which examines how films adapt ancient Greek tragedies, such as Julie Taymor's 1992 film version of Sophocles' fifth-century BCE Oedipus the King.
So long for now, Wisconsin! See you next year!