These alumni work to empower women
By Maura King Scully
Illustrations by Joel Kimmel
How do you measure the impact of coeducation at Trinity College? You could look at the facts: Trinity has 11,844 female graduates, constituting a full 42 percent of living alumni. You could consider the difference coeducation has made on all graduates—no matter the gender—who have traversed the Long Walk over the last 50 years. Or you could, as we do in this issue of The Trinity Reporter, take a slightly different tack, looking at a small sampling of graduates who are working in the women's empowerment space.
Some focus their efforts on a specific industry or city; others pursue a broader agenda on the global stage. No matter their bailiwick, one and all demonstrate the power of a Trinity education as espoused in the college's mission statement, that it prepares bold, independent thinkers who lead transformative lives. In the case of these nine graduates, their transformative lives are proving to be game changing worldwide.
Charlotte (Fouch) Fox '06
Director of Communications, International Women's Media Foundation (IWMF); Washington, D.C.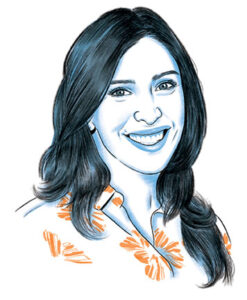 A tireless advocate of gender equity with a lifelong passion for the news, Charlotte (Fouch) Fox notes that she is "supremely happy" to have landed at IWMF. "My professional work is now my life's work, which is incredibly validating," she says. The IWMF is an organization that breaks barriers for women journalists, transforming global news media. The IWMF's fellowship and grant programs support women in media—both freelance and staff journalists—helping them become experts in reporting in underserved regions, generate must-read stories, and bring critical issues affecting women and others to light. The organization is the sole provider of safety training, byline opportunities, and emergency support tailored to female journalists and photographers around the world. In addition to working directly with journalists, the IWMF studies why journalism remains dominated by men and advocates for inclusive practices that help propel women and minorities into leadership roles.
Donna Haghighat '89
CEO, Women's Fund of Western Massachusetts; Springfield, Massachusetts
The daughter of Iranian immigrants, "I never took education for granted," Donna Haghighat explains. Her mother, Parvaneh, was married at 16, at which time Haghighat's grandfather insisted she drop out of high school. Thanks to her persistence (and with help from her mother), Parvaneh finished high school and went on to complete college in the United States while raising four children. Inspired by her example, Haghighat now leads the Women's Fund of Western Massachusetts, where she strives to elevate local women to take charge. The Women's Fund does this through fundraising for two initiatives: grant making to area organizations that share the Women's Fund's vision and training women through its Leadership Institute for Political and Public Impact (LIPPI). To date, more than 250 women have completed LIPPI training, and 3 million women and families have been impacted through its grants. "I love making connections with people who share my passion for advancing women and girls," she notes.
Christine Quinn '88
President and CEO, Women in Need (WIN); New York, New York
What do you do after you've served as speaker of the New York City Council—the first woman and openly LGBT person to hold the position? Four years ago, Christine Quinn grappled with that question and decided she wanted to keep doing advocacy work for issues she cared about. WIN, the largest provider of shelter and services to women and families in New York City—with 11 shelters and more than 300 supportive housing units across the city—checked all of her boxes. WIN's vision is to break the cycle of homelessness by providing safe housing and critical services to help homeless women and their children rebuild their lives. "Homelessness is the significant crisis of our time," Quinn says. "New York cannot be the greatest city in the world if 60,000 people have to sleep on the street every night. Our job is to stand with those experiencing homelessness and eradicate the underlying conditions that cause it."
Mary Kate Morr '12
Volunteer Coordinator, Rocky Mountain MicroFinance Institute (RMMFI); Denver, Colorado
Growing up in Denver, Mary Kate Morr watched the gentrification of the Mile High City unfold around her. After earning a master's degree in social work, Morr decided she "wanted to work in a place where I was pushing back on that gentrification." Enter RMMFI, an organization that helps people with an idea transform into serious entrepreneurs through personal, business, and financial investments. Through its 12-week business boot camp and mentorship program for under-resourced entrepreneurs, RMMFI builds community wealth by reimagining social and economic inclusion. Start-ups run the gamut from products like candles and soaps, to services like cleaning, as well as graphic design and food carts. "Part of our mission is to build up female business owners along with entrepreneurs of color," says Morr, who recruits mentors for RMMFI. "Our entrepreneurs are diverse in every sense of the word, and part of my role is to build a pool of mentors with shared life experience reflecting that diversity."
Melinda Leonard Reed '95
Executive Director, Women's Initiatives for Gender Justice (WIGJ); The Hague, the Netherlands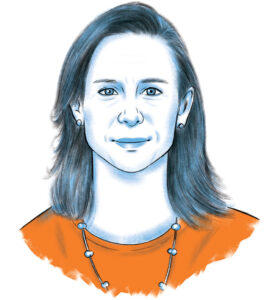 After graduating with a B.A. in public policy and a master's in international affairs from Columbia University, Melinda Leonard Reed worked overseas doing humanitarian aid work for many years. She then moved back to the United States and directed a domestic and sexual violence shelter in Helena, Montana—a position that she described as "domestic humanitarian aid work." When the position opened at the WIGJ two years ago, "it was a way to take my slightly divergent career paths and marry them," Reed says. The WIGJ is a nonprofit international women's human rights organization that advocates for gender justice through the International Criminal Court (ICC). It also is active in individual countries around the world in peace negotiations and justice processes. The WIGJ works with victims of sexual violence in conflicts under investigation by the ICC and collaborates with more than 6,000 grassroots partners across multiple armed conflicts. "This work is profoundly important," Reed says. "Sexual violence is the most widely used weapon of war—and it's perpetrated with total impunity."
Valeria McFarren Piper '05
Co-founder, TheSheLab; Charlottesville, Virginia
"It's amazing what happens when you bring women together from around the world and are able to form relationships built on trust and respect." So says Valeria McFarren Piper about TheSheLab, a community of practice and women's network that is committed to female empowerment and equality. Born and raised in Bolivia, Piper started the organization after spending a decade in Washington, D.C. There, she worked at the Millennium Challenge Corporation, a U.S. foreign aid agency, where she oversaw strategic communications in 24 countries. Piper and a partner tapped into that global network to form TheSheLab; the 13 members on the organizing committee hail from countries ranging from the Dominican Republic to Tanzania. The project is starting small, hosting monthly TED-type talks—for women, by women—in Charlottesville, where she and her co-founder live. "We now have 400 members and plan to open 10 other chapters in the new year [2020]," Piper notes. "We are each other's sounding boards, thought partners, and support system."
Zoraida Lopez-Diago '03
Co-creator, Women Picturing Revolution (WPR); Beacon, New York
When Zoraida Lopez-Diago was growing up, dinner conversations swirled around gender equity, LGBTQ rights, and similar topics. With her mother heading up affirmative action for a Connecticut state agency, she says, "I always knew that I would do something that dealt with shedding light on issues that are overlooked." Lopez-Diago, a photographer, curator, and consultant, has taught photography to female inmates at a maximum-security prison in Medellín, Colombia, lectured about her work at Harvard University and other institutions, and co-founded Women Picturing Revolution (WPR), an organization that brings to the forefront the work of female photographers who have documented conflicts, crises, and revolution. She and co-founder Lesly Deschler Canossi lead seminars and curate discussions in locales including New York and the United Kingdom. Lopez-Diago also is the co-editor of Representations of Black Motherhood and Photography, a book that gives voice to the intersection of photography, black motherhood, and the ways in which black mothers have navigated gender, race, and class. This edited collection is due to be published in 2021 by Leuven University Press in Belgium and distributed by Cornell Press.
Rick Zedník '93
Managing Director, Women Political Leaders (WPL); Brussels, Belgium
"For millennia, social networks have helped people get ahead—largely men," explains Rick Zedník. "At WPL, we're making our small contribution to changing that." Headquartered in Iceland, WPL's mission is to increase both the number and the influence of women in political leadership. An independent, international, and nonpartisan foundation, WPL bills itself as a global champion of equality between women and men. It is the only organization that brings together all female political leaders, seeking to tackle international challenges by harnessing their collective power. Through conferences, a summit, and advocacy, WPL builds communities of knowledge for thousands of women politicians everywhere: members of national legislatures, cabinet ministers, and heads of state and government. In all of its activities, WPL strives to demonstrate the positive impact of more women in positions of political leadership. And to Zedník, a feminist "at least since Trinity," "it's important to try and rebalance the equation."
Dyllan McGee '93
Emmy-award winning filmmaker; Waccabuc, New York
Throughout her career, Dyllan McGee has been dedicated to telling compelling and immersive stories. But good storytelling isn't enough. It also has to matter. Every project McGee has brought to life was born from a vision of a fairer and more equitable world. With two Emmys to her credit, she is founder and executive producer of McGee Media, a documentary film company whose recent projects include Finding Your Roots with Henry Louis Gates Jr. (PBS); Rancher, Farmer, Fisherman (Discovery); and Reconstruction (PBS). McGee also is the founder and executive producer of MAKERS, a media brand that accelerates the women's movement through the stories of real-life experiences. MAKERS has produced short documentaries on more than 400 groundbreaking women from all walks of life, including Gloria Steinem, Oprah Winfrey, and one of New York City's first female firefighters. MAKERS hosts an annual conference that brings together more than 500 women for a three-day global event, which is subsequently viewed online by more than 20 million people.
Final thoughts …
"Without equal representation of women in journalism, there is no full story. The journalists I work to support are truth tellers who fight with their pens."—Charlotte (Fouch) Fox '06
"How do you keep empowering women and girls relative to the wider world? That's a challenge, and I like a good challenge."—Donna Haghighat '89
"I love spending time with clients. These are some of the toughest, strongest women you could ever meet. I find them endlessly inspiring and impressive."—Christine Quinn '88
"Entrepreneurs are skewed toward upper-class white males. We need to tap into the talents outside that network—in women, people of color, and working-class individuals—or we're missing out."—Mary Kate Morr '12
"I don't think I understood gender inequality when I was at Trinity. I felt relatively equal. But the world isn't like Trinity."—Melinda Leonard Reed '95
"At Trinity, I learned the importance of creating space for conversations and building bridges between communities. There was power in each of the communities I was involved in—international students, minority students, and my sorority."—Valeria McFarren Piper '05
"I was fortunate to have studied with faculty including Brigitte Schultz and Michael Niemann, two professors who have had a lasting impact on how I approach my work and photography endeavors. Seeing Trinity professors, such as Johnny Williams and Vijay Prashad, fight for social justice continually inspires me to deepen my photography practice and continue long-term projects."—Zoraida Lopez-Diago '03
"As a senior at Trinity, I was one of five men to take 'Women's Studies 101.' It was the first time I experienced being totally outnumbered. It was instructive."—Rick Zedník '93
"If you had asked me at Trinity if I was a feminist, I would have said 'no.' That's changed. My two teenage sons have been calling themselves feminists since they could talk."—Dyllan McGee '93