[Posted by Jenn Brasfield for AMST 838: America Collects Itself: From Colony to Empire]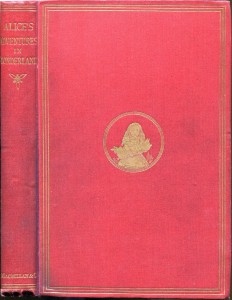 Like Alice's journey down the rabbit hole, the descent into the stacks of the Watkinson Library is a journey filled with wonder, confusion and excitement. Where will you end up? How far down is the bottom? And what curious items will be waiting for you when you get there?  I found the Dodgson family waiting for me at the bottom of the stairwell hidden between books on shoes and ships and sealing wax and cabbages and kings.  What I thought was going to be a simple journey just enjoying a childhood favorite opened the door to a much more exciting find.
Lewis Carroll's classic masterpiece Alice's Adventures in Wonderland has been a favorite of children and adults for the 148 years since its initial publication.  His nonsensical story of the "exactly seven-and-a-half-year-old-girl" who tumbles through a rabbit hole has been translated into thousands of languages around the globe including rare aboriginal dialects, and has never been out of print.  One of the most quoted novels of all time, Carroll's heroine, Alice, finds herself in the world of nonsense where you take advice from a hookah smoking caterpillar, you're bombarded with riddles at a mad tea party, you play croquet with the queen and you can grow taller or smaller with cookies and mushrooms.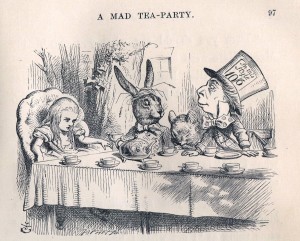 Originally set for publication in 1865, the release of Alice's Adventures in Wonderland was held because of both Lewis Carroll and John Tenniel's disapproval of the poor printing quality of Tenniel's illustrations.  The original run of Alice was supposed to be sold as scrap paper but instead the unbound copies ended up in New York where it was issued by D. Appleton and Company in 1866.  In November of 1865 with "very far superior" illustrations and "in fact a perfect piece of artistic printing," Alice was published by Macmillian and Co. with an 1866 publication date and she was finally available in England.
Charles Lutwidge Dodgson, the man behind the legend, used the pen name Lewis Carroll to author his Alice books and much of his other nonsense, poetry and children's literature.
Dodgson was born 1832 to the Reverend Charles Dodgson in a small village in Cheshire England.  In 1843 the Dodgson family moved to Croft, a town in Yorkshire where they remained until 1868 when the elder Dodgson died. Living at the Croft Rectory provided the Dodgson family with more money and a better lifestyle than they had in Cheshire. Among the benefits of this new position was being able to employ servants for the family.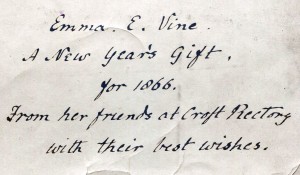 The Watkinson has several copies of Alice ranging in publication, but the 1866 edition is truly a special find. This copy of Alice is listed in the Watkinson's online catalog with the note "Presentation copy from Lewis Carroll and his family to Emma E. Vine, a nurse in their home, Croft Rectory." I had to know more.  Upon inspection of the book, I found the inscription on the inside, which reads, "Emma E. Vine / A New Year's Gift / For 1866 / From her friends at Croft Rectory / With their best wishes."  I was getting curiouser and curiouser.
In the Watkinson's bibliographical files I found a note from Louisa Dodgson, the eighth of the eleven Dodgson children. Louisa's note, dated April 5th, 1920, said:
"I am so sorry to be so long in replying to y[our] question- but have been laid up and unable to write. Emma Vine was an old & most valued servant of ours- coming to us ab[ou]t 1846 as nurse remaining on as sewing maid until our home was broken up at Croft Rectory in 1868. – Her copy of the book must have been a very early edition – without seeing the card I cannot of course tell the writer of it. L. Dodgson"
Almost 22 years with the Dodgson family made Ms. Vine an important part of the family. The next item in the file is a photograph of the book inscription and on the back is another note from Louisa:
"This is photographed from the inscription I wrote in the copy of "Alice" which we gave to our old nurse in 1866 – Louisa F. Dodgson – April 20, 1920"
So there it was, the connection I was looking for. This book was in fact the presentation copy to the Dodgson family nurse. Not only does the Watkinson have the book but it has the priceless notes from Louisa that verifies the gifts provenance and unique history, and clues the world into a bit of the Dodgson family's history.
What started with a childhood favorite turned into uncovering a story from the Dodgson family and their one of a kind gift to their family's dear servant.  What a rare find that exists only in the rabbit hole that is the Watkinson Library.