Foundations help link Trinity to the world
by Maura King Scully
The world just got a little closer to Hartford.
Thanks to substantial support from The MasterCard Foundation and The Henry Luce Foundation, Trinity is deepening connections in two of the world's most rapidly growing regions: Africa and Asia.
Investing in education
The MasterCard Foundation, based in Toronto, Canada, has tapped Trinity as one of eight international partner institutions for an innovative scholarship model. The program provides monetary support for talented students from Africa to achieve their university education. The scholarship initiative is a collaboration between the foundation and African Leadership Academy (ALA), a pan-African secondary institution in Johannesburg, South Africa.
Founded in 2004, ALA "is an amazing two-year, precollegiate school that grooms students as future leaders," says Trinity College Associate Director of Admissions Mandi Haines. "Trinity began recruiting students from ALA four years ago."
Beginning this academic year, the initiative is bringing three outstanding African students on full scholarships to Trinity annually, with The MasterCard Foundation contributing a total of $715,000 in support over seven years. The foundation funds a portion of the scholarships, flexible financial support that can be used toward tuition, and funds for expenses not covered by financial aid, including travel, visas, and computers. Trinity commits to co-funding the balance of tuition as well as providing ongoing mentorship and guidance to students through dedicated faculty and staff liaisons.
This past fall semester, Trinity admitted its second class of MasterCard Foundation Scholars: Abdirahman "Nasri" Abdilahi, Fatty Al Ansar, and Tracy Keza, all members of the Class of 2017. They join Miriam Atuya '16 and Eddy Oketch '14, who were named MasterCard Foundation Scholars last year.
The program is built on the premise that investing in education is a catalyst for social and economic advancement. This initiative provides students with comprehensive support for tuition, mentoring, and voluntarism.
"More than scholarships, this is about developing next-generation leaders who will return to Africa and make a difference in their communities," says Deepali Khanna, director of youth learning at The MasterCard Foundation.
Partner institutions, including universities in the United States, Canada, and Europe, were selected for their commitment to serving economically disadvantaged youth, their academic excellence, and their nurturing environments.
The scholars contribute greatly to Trinity's academic and intellectual community, says Garth Myers, Paul E. Raether Distinguished Professor of Urban International Studies. "The MasterCard Foundation Scholars are among the best students we have," he says. "They come here with the ability to think globally and hit the ground running. I've been a beneficiary as a professor because they contribute so much to my classroom," he continues.
"In my 'African Cities' class, I actually turned the class over to Eddy Oketch for one lecture on governance in Nairobi, Kenya." A victim of postelection violence in 2008, Myers says, Oketch started a nongovernmental organization that was instrumental in preventing an outbreak of violence in that country's most recent elections. "The whole class gained from having one of their peers speak to them about his firsthand experience.
Associate Professor of Political Science Stefanie Chambers has also enjoyed the presence of MasterCard Foundation Scholars in her classes. "All students benefit from having a diverse community of learners," she says. "They contribute a different point of view on what we do in the U.S. and what they see in their own countries' political systems."
Chambers, who traveled to Kenya this summer to take part in a conference The MasterCard Foundation held for scholarship recipients heading to colleges overseas, is grateful to the foundation for its support of this program. "These are young people with incredible leadership potential who are going to make wonderful contributions at Trinity and in their own countries," she says.
Says Haines, "This program from The MasterCard Foundation increases our ability to reach out to international students, enhances the classroom experience, and makes Trinity a better place."
Eastward ho
In December 2012, The Henry Luce Foundation approved a $400,000 grant to Trinity through its Luce Initiative on Asian Studies and the Environment (LIASE). The four-year grant comes on the heels of a yearlong $50,000 exploration grant, bringing the total amount to $450,000 over five years.
The LIASE funds are already hard at work, helping to fully implement an integrated program linking Asian studies, environmental science, and urban studies. "The implementation grant is providing crucial support for faculty development, teaching, research, and most importantly, experiential learning for students," says Xiangming Chen, dean and director of the Center for Urban and Global Studies and Paul E. Raether Distinguished Professor of Global Urban Studies and Sociology.
Chen explains that this past summer, LIASE support enriched the experience of the popular three-week "River Cities of Asia" summer course. Two students, Daniel Luke '14 and Class of 1963 Scholar Shaina Lo '15, were able to spend an additional month on the continent conducting independent research. "We'd like to see more students take advantage of this in the future," Chen says.
Trinity is also using the grant to strengthen a permanent hub for study abroad and collaborative research at Fudan University in Shanghai and to establish a second base linking the Chinese cities of Chongqing and Kunming with cross-border programming that encompasses Cambodia, Laos, and Myanmar.
Also in the works for next year is a summer field course in Japan. Jeffrey Bayliss, Charles A. Dana Research Associate Professor of History, and Jonathan Gourley, senior lecturer in environmental science, are developing a short Tokyo-based traveling course focusing on the economic and environmental challenges of that country's rebuilding in the wake of earthquakes and tsunamis.
Professor of Biology Joan Morrison, who has co-taught "River Cities of Asia" with Chen and Associate Professor of History Michael Lestz '68 since its inception in 2009, firmly believes in the benefit of such travel courses. "This kind of experiential learning–actually visiting and experiencing these places and their associated challenges–can affect a student for life," she says. "Being in and learning how to navigate in a different culture breeds compassion and tolerance in students who have not been exposed to such differences. These types of experiences can better prepare young people to lead productive lives and be good global citizens."
In addition, the grant will bring visiting professors to campus for semester-long appointments as Luce Scholars. In January, Professor Jing Gan from China's Tongji University will come to teach "Sustainable Urban Development" with a focus on China. "Tongji is China's top university for architecture and urban planning," explains Chen. Gan's focus is on green, ecological cities and energy conservation.
LIASE is also strengthening Trinity's online links to Asia through Digital Cities, an online platform designed to store students' work from the field, share scholarly material, and promote the exchange of ideas among Trinity students and faculty and between them and scholars and organizations in China. Developed by Trinity computer scientist Trishan de Lanerolle, who has trained several students to maintain it, Digital Cities is expected to become a resource for people and organizations across cultural and geographic borders who are interested in Asia, the environment, sustainability, and urban development.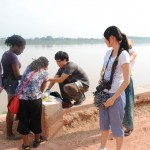 Extending Trinity's Reach
Support from the MasterCard and Luce foundations further strengthens the College's existing efforts in Africa and Asia.
Read the full story
.