[Posted by guest blogger Lynn Fahy, Catalog Librarian]
Elisha Stanley was a student at the Edward Hall Family School for Boys in Ellington, CT in 1863. He and other teenage boys lived with Hall and his family and attended classes in the building next door, which is now a private home. One of Stanley's textbooks, Sallust's history of the war against Jugurtha, and of the conspiracy of Cataline is in the Henry Barnard Collection of 19th century American textbooks in the Watkinson Library. Stanley signed the endpaper, "Elisha Stanley, Jefferson City, Missouri. Ellington, Ct., Jan. 12, 1863." Library record is here: http://library.trincoll.edu/voyager/shortcut.cfm?BIBID=98318
While doing research for my pictorial history, Images of America: Ellington, I learned that that Yanosuke Iwasaki, the second president of the Mitsubishi Corporation, had attended Hall's school in the early 1870s, about ten years after Elisha Stanley. I also discovered that Mitsubishi was unaware of the Ellington connection. I contacted Seiichi Narita, the historian of the Mitsubishi Corporation in Tokyo by email. Our correspondence led to a visit by Narita to Ellington in August 2005 to confirm Iwasaki's attendance at the school. Iwasaki's brother Yataro wanted to prepare his younger brother for what he saw as a developing global economy by studying in the United States and learning English. Narita and I visited the home that had housed the classrooms of the Hall School. Elisha Stanley had scratched his initials and name in script on windows in one of his classrooms, and they are still there!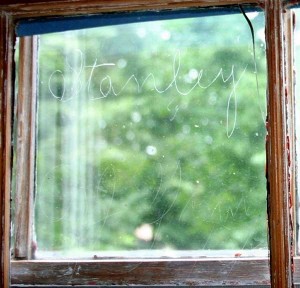 Narita was working on a history of the Mitsubishi Corporation that was just published this spring in Japan, and he wanted to know what Iwasaki would have studied, so he visited the Watkinson Library and examined Elisha Stanley's textbook. Yanosuke Iwasaki and his son Koyata, the fourth president of Mitsubhishi, collected books, artworks and other cultural treasures to help preserve Japanese heritage at a time when they feared that Westernization would destroy it. The Seikado Bunko Art Museum in Tokyo houses their collection. Narita donated Art treasures of the Seikado to the Watkinson Library at the time of his visit.  Library record is here:  http://library.trincoll.edu/voyager/shortcut.cfm?BIBID=750806
This entry was posted on Tuesday, August 24th, 2010 at 8:34 pm and is filed under
Uncategorized
. You can follow any responses to this entry through the
RSS 2.0
feed. Both comments and pings are currently closed.