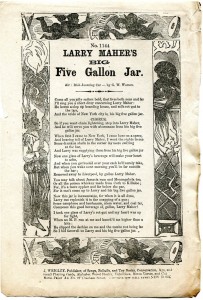 [Posted by Dan Milner, University of Birmingham (England); recent link:  http://blogs.smithsonianmag.com/aroundthemall/2011/04/smithsonian-folkways-releases-civil-war-naval-songs/]
Stan Hugill was the last seaman known to have sung sea shanties aboard a British merchant ship.  Hugill was also a prolific maritime painter and author of books on sea songs.  In Sailortown (1967), he mentions a New York shanghier who operated a combination hostelry-cum-grogshop named Larry Maher.
About 10 years ago, I found a Civil War period broadside sheet titled "Larry Maher's Big 5-Gallon Jar" printed by H. De Marsan at 54 Chatham Street. New York, and I made mention of the piece in "Irish Maritime Songs from New York's 19th Century Music Emporiums," a presentation I made at the 2006 Mystic Seaport Music of the Sea Symposium.  It is quite evocative, as shown in this passage:
Come, all you jolly sailors bold, that lives both near and far; / I'll sing you a short ditty concerning Larry Maher: / He keeps a slop-up boarding house, and sells rot-gut to the tars, / And the scourge of New-York City is… his big five-gallon jar.
So, if you want chain-lightning, step into Larry Maher, / And he'll serve you with abundance from his big five-gallon jar.
When first I came to New-York, I came here on a spree, / And hearing tell of Larry's place, I went the sights to see: / Some drunken shells in the corner lay more swilling at the bar, / And Larry was supplying them from his big five-gallon jar.
Now, one glass of Larry's beverage will make your heart to ache, / And, when you get keeled over, your cash he'll surely take; / But when you wake next morning, you'll be far outside the bar, / Removed away to Liverpool by… gallus Larry Maher.
Two years later, I found an entry in a Manhattan city directory, "Maher Lawrence, liquors" beginning in 1857.  But the name of the song's composer eluded me until August 2010 when I set my eyes on a second "Larry Maher" ballad sheet at the Watkinson Library, printed by J. Wrigley of "27 Chatham Street (opposite City Hall Park) New York."  James Wrigley and Henry De Marsan were competitors and both were located at the addresses printed on their broadsides between 1861 and 1864.  The texts vary slightly, but the Watkinson broadside has one additional piece of information.  It specified the lyricist as G.W. Watson.
As I begin writing my Ph.D. dissertation on Irish life in New York City, the Wrigley broadside is a most welcome find.  Thanks to you, Peter Knapp and your colleagues for the helpful hospitality shown during my visit.
Tags: Visiting scholar
This entry was posted on Monday, October 11th, 2010 at 12:26 pm and is filed under
Uncategorized
. You can follow any responses to this entry through the
RSS 2.0
feed. Both comments and pings are currently closed.