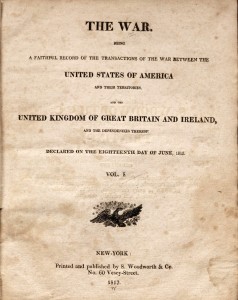 [Posted by Samuel Crompton, Professor of History, Holyoke Community College]
Where else but the Watkinson would I find original, bound copies of the little-known newpspaper THE WAR, printed in New York City between 1812 and 1814? Where but the Watkinson could I examine it in the original, crumbly form, and see the occasional pencil mark made by an owner? Only at the Watkinson!
[Curator's Note: The below was created by the staff of the Lilly Library at Indiana University; their copy is digitized here]
The War. New York: S. Woodworth & Co., 1812-1817.  Samuel Woodworth is better known today as a poet and playwright, but he published a number of newspapers and journals. The War began publication in June of 1812, and Woodworth intended the paper to serve both as a news source and as a history. In a notice published in the first issue of volume three, the editor saw the end of the war in sight and announced plans to include a chronological index to the publication as well as his intent to publish various state documents which "want of room has heretofore excluded."
This entry was posted on Wednesday, March 13th, 2013 at 2:34 pm and is filed under
Visiting researcher
. You can follow any responses to this entry through the
RSS 2.0
feed. Both comments and pings are currently closed.