[Posted as 2 of 10 in a series on the College Archives by Emma Paine, a graduate student intern from Simmons College]
A mathematics professor by trade, Dr. Harold L. Dorwart was also a fastidious chronicler of history.  His papers, donated to the college in 1979, reveal someone who recognized history being made and had the presence of mind to collect the evidence.  Moreover, in a testament to his mathematical training, he also analyzed that evidence, creating a collection that's more like a well-edited textbook than the typical box of faculty papers.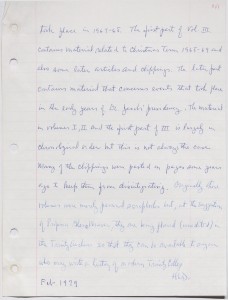 Dr. Dorwart called his text "Trinity College 1967-68: A Documentary History," and his handwritten table of contents identifies over one hundred newspaper clippings, memos, proposals, posters, and commentary from his rather tumultuous year as Acting Dean of the College.  (It was actually supposed to be a fairly easy job until a diaphragmatic hernia put the President out of commission and left Dorwart to lead the College through a series of five "crises," including the student sit-in and the "punishment controversy" that followed!)
Sometimes, Dr. Dorwart comes across as a hero, like when he prohibited on-campus military recruiters from reporting student protesters to the Vietnam War Draft Board.  Other times, he comes across as a bit of a villain, like when he attended a student meeting on an unexpected tuition hike and refused to answer the students' questions (per his superior's orders).   Most of the time, though, he comes across as an ordinary guy thrust into the extraordinarily challenging situation of saving the College from certain destruction by making everyone happy, all while avoiding the attention of the Press.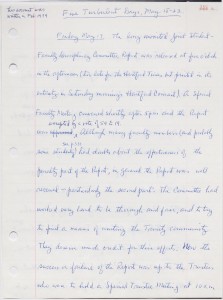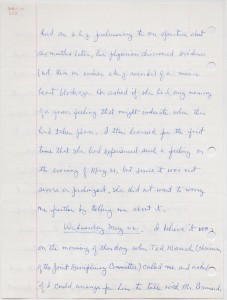 Although the sit-in is a big part of his collection, it's not the only momentous occasion Dr. Dorwart experienced and recorded as part of his everyday life.  Several years earlier, he was invited to meet President Dwight D. Eisenhower when the war hero addressed the Trinity campus at the 1954 Convocation, and Dr. Dorwart saved all sorts of invitations, instructions, newspaper clippings, and other ephemera documenting the day.  These items really bring this historic day to life—especially the Trinity College Traffic Control map, which visually documents all of the effort that went into planning the event and reveals connections to today's Calendar Office.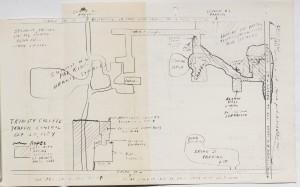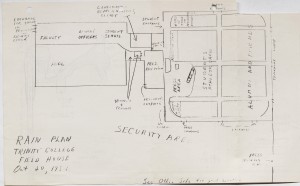 To learn more about Dr. Dorwart and his collection, visit the Watkinson and ask for the finding aid!
This entry was posted on Saturday, July 26th, 2014 at 9:07 pm and is filed under
College Archives
,
Interns
. You can follow any responses to this entry through the
RSS 2.0
feed. Both comments and pings are currently closed.