[Posted as 5 of 10 in a series on the College Archives by Emma Paine, a graduate student intern from Simmons College]
A prolific writer who published five books and numerous poems, short stories, and essays over the course of his life, Professor Fred Pfeil was also a big contributor to the College Archives—when he passed away in 2005, we received approximately 16 boxes of material including manuscripts, revisions, research notes, and correspondence for nearly everything he published, as well as syllabi, clippings, conference materials, and notebooks documenting everything from his political activism and meditation practice, to his experience as an Amherst student in the late 1960's and the later development of his own course material at Trinity.  He even saved his Woodstock tickets!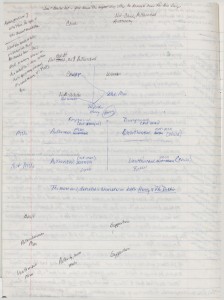 If you've ever wondered how the people who grade your papers go about writing their own, or you've heard how hard it was to research pre-internet and want to see this process for yourself, the Pfeil papers (especially box 7) are a good place to look! The items in this box deal mostly with Fred's 1995 book White Guys, a collection of essays on the representations of white, straight masculinity in rock music, detective novels, action films, and other examples of contemporary popular culture, and they track the development of the book from research to publication.
Sources are at the heart of any research project, and Fred saved many of his! There are whole issues of Time, The Bloomsbury Review, The New Yorker, and Esquire as well as several folders of scholarly articles, newsletters, newspaper clippings, magazine articles, and film reviews, some with the inter-library loan slips still attached.  They are all arranged according to Fred's original labels, which include titles like "Mainstream Press Coverage of the Men's Movement," "Alternate Press Coverage of Men's Mov.," and "Feminist Response to the Men's Movement," as well as the catch-all "Men's Movement Stuff."
We also have Fred's notes on these sources.  He appeared to prefer the blue examination books for his note taking, and there is one that includes film analyses and quotes from reviews of the films discussed in "The Year of Living Sensitively."  There are also type-written drafts of  this chapter, each of which shows Fred's revisions in pen; in fact, one copy has comments written in two different hands, and it's possible to see how Fred addressed these suggestions (or not) in his revisions!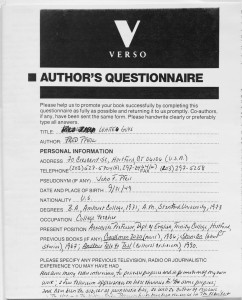 Once these drafts were revised, the last step was publication, and there are several pieces of correspondence that show how White Guys was produced and marketed.  One key piece is the author's questionnaire, which solicited Fred's ideas for marketing his own book.  Who knew the author was so involved in that part of the process?
If you're interested in learning more about Fred and his writing, please stop by the Watkinson and ask for the finding aid.
This entry was posted on Saturday, July 26th, 2014 at 9:19 pm and is filed under
College Archives
,
Interns
. You can follow any responses to this entry through the
RSS 2.0
feed. Both comments and pings are currently closed.