In Moodle, creating a quiz or exam is a two-step process. First, you must create the quiz activity and set options for visibility, timing and other options for student interactions. The next step is to add questions to the quiz, which can be entered manually or pulled from a previously-built quiz question bank.
View documentation on creating quizzes at https://docs.moodle.org/38/en/Quiz_activity.
To start making a quiz in moodle, the first step is to turn editing on in the course you want the quiz to go in. This can be done here

Next, you will go to the week or block, depending on how your course is organized, that you would like the students to see the quiz in and click add an activity or resource.
Then you will select quiz from the list of activities in the new pop-up window, you may have to scroll to find the quiz option. After selecting quiz, click add at the bottom of the window.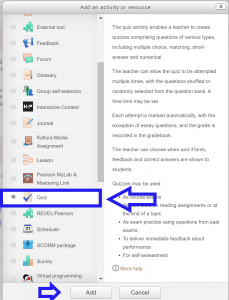 Next, a screen will appear that allows you to edit the settings of the quiz. First, you must name the quiz in the first box with the red asterisk. The rest of the settings on this page are semi-optional. Depending on how you want your quiz to function and the way you use moodle for your class you may want to play with these settings but you don't have to do so for the quiz to be functional. If you want to get more technical with these settings refer to the moodle docs for this page which are found here https://docs.moodle.org/36/en/mod/quiz/mod and at the bottom of any moodle page. In these settings, you can learn how to change how the quiz is graded, how to make the quiz timed, how to add multiple tries on a question or remove them and other such functions.

Once you have named your quiz and changed any of the settings you may have wanted to you should click Save and Display.
This will bring you to the screen shown below where you will then click on Edit Quiz
It is now time to add questions to your quiz. To do so you will click the add button in the lower right-hand corner

You will then see the option to "add a new question", "add from question bank", or "add a random question". You will almost always want to choose "add a new question" unless you have already made another quiz and want to reuse some of the questions in it. Then you may want to "add from question bank". After you click "add a new question" this screen will appear and you will choose what type of question you want to add
The type of questions you want to ask are up to you and moodle does a good job of providing many options to fit your needs. It is easiest to stick to the top five or so types if you don't want to make it too complicated. If you want moodle to grade the quiz itself make sure to only select multiple choice, true/false, or matching as it can't grade short answer, etc.
Once you select a question type you will be brought to a new page. No matter the question type you will have to name every question. This is done in the first box on the page with a red asterisk next to it. The naming system you choose is up to you but it is often easiest to name them by numbering them as you would a normal quiz question.
After naming the question you will enter the question and any answers as well as be able to change the settings for an individual question if you want. The best way to find more information on how to edit the different kinds of questions is to click on the "moodle docs for this page" button at the bottom of any question editing page.
After entering the question, any answers, and editing any settings that may be necessary you will click save changes at the bottom of the page.
If you have successfully entered everything required for the question it will return you to the edit quiz page where you can add more questions. If not, it will prompt you to fill in the other required fields, ensuring that the question will function properly. You will repeat this until you have entered all of the questions for your quiz. At this point you will click save in the upper right hand corner to save the quiz one last time.
After doing so you will still be on this page but you can navigate back to your course using the dashboard on the left. Your quiz will be completed and depending on the settings you used in the first step will be visible to students now or later.