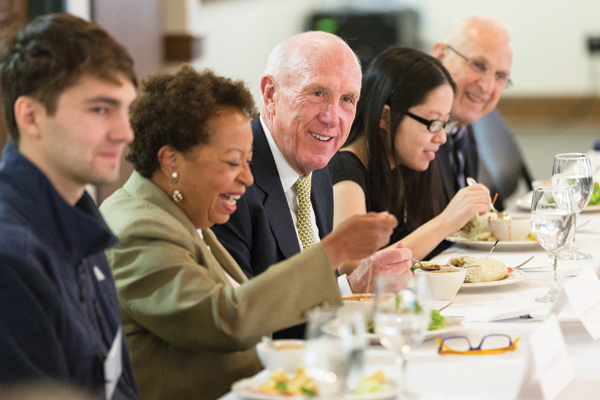 Paul E. Raether '68, H'14, P'93, '96, '01 returned to campus in October 2016 to discuss how his liberal arts experience at Trinity, including his history major, prepared him for his highly successful career on Wall Street. He was joined in conversation by Jason Kelly, the New York bureau chief of Bloomberg News.
A member of Kohlberg Kravis Roberts & Co. (KKR), a multinational private investment equity firm in New York City, Raether is one of Trinity's most committed alumni; his extensive involvement has been recognized with the highest honors given by the College. He served on Trinity's Board of Trustees for 25 years and was the College's longest-serving board chairman, holding that position from 2002 through 2014.
Students drawn to the conversation between Raether and Kelly in Mather Hall's Washington Room were members of Trinity's Investment Club as well as those who participate in the Career Development Center's Summit to Wall Street program. Many who introduced themselves to Raether noted their interest in a career in the financial sector. Others let him know that they are history majors, as was he. A Denver native, Raether participated in sports at Trinity, including soccer, baseball, and skiing, and was a member of Psi Upsilon. Raether and his wife, Wendy, are the parents of three Trinity alumnae: Elissa, Alexa, and Cara.
In advance of his Common Hour talk, Raether visited over lunch with a group of about 15 scholars, including recipients of Raether Scholarships as well as Presidential Scholars, 1823 Scholars, Kelter Scholars, and QuestBridge Scholars.
To view more photos from the event, please visit the photo gallery on Flickr.