Category Archives:
Special Projects
By Brendan W. Clark '21
Editor; History Major
Gillian Reinhard '20 is the President's Fellow in History, the Department's inaugural Chatfield Fellow, and a senior thesis writer. History@Trinity's Brendan Clark sat with Gillian to ask her a few questions about her thesis and her experience with the History Department.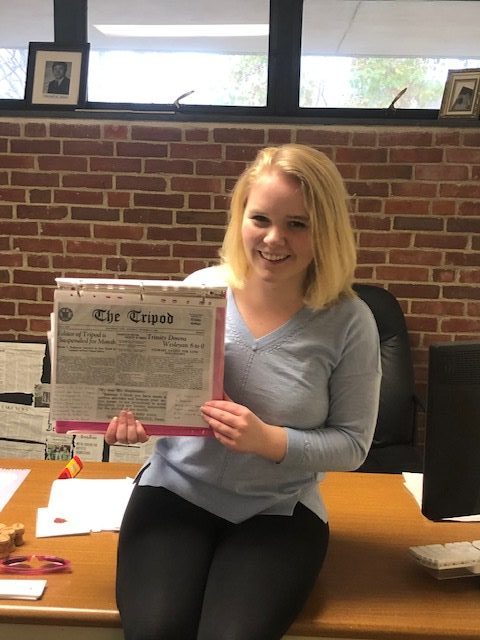 Describe your research topic in two minutes or less.
I am looking at the 1926 opera Turandot, by the Italian composer Giacomo Puccini. The first part of my thesis concerns how different cultures portrayed exoticism and embraced Edward Said's concept of Orientalism. I am applying what I have learned in the first chapter to look specifically at how British audiences perceived Puccini's opera when it arrived in London a year later, again from the perspective of Orientalism. The relationship between Britain and China is a unique one, with a long, complicated history, and I am hopeful that an analysis of this opera can shed light on this relationship.
What specific aspects of your academic career at Trinity and your personal historical interests led you to select this topic?
Firstly, I have studied Mandarin Chinese since middle school and had the opportunity to study abroad in Shanghai during the fall of my junior year. My experience abroad truly shed light on the concept of Orientalism in the West. Also, I read Orientalism, by Edward Said, in my first-year seminar "Arabian Nights" with Associate Professor of History Zayde Antrim. That text has shaped much of my academic work. I decided to look at it through the lens of opera, as it has always been a quirky interest of mine.
Written by: James Barrett (History, IDP, Class of 2017)
It is a difficult task to imagine a world without highways. Every city, big and small, has multiple routes in and out. This is nothing new of course, most people have experience with highways whether they commute everyday to go to work or just drive on them once or twice a year. But it is also possible to view highways as a recent development, especially in the United States. The 1939 New York World's Fair had a great deal to do with the development of the highways. General Motors, in a mission to sell more cars, presented their "Futurama" exhibit which depicted "modernized expressways speeding traffic through great skyscraper cities at one hundred miles per hour." Looking back, it is easy to see how this display impressed attendees of the World's Fair. With that said however, it is also easy to see that the relationship between highways, cars, and cities did not exactly pan out the way General Motors thought it would.
(more…)
"By the time Serena Kassow appeared in a film about the Warsaw ghetto's secret archive, she had heard about "the most important untold story of the Holocaust" for the better part of her life. As the daughter of Holocaust historian Samuel Kassow, the 21 year old grew up watching her father collect stories from local survivors in Connecticut, particularly those from Poland. Years of learning culminated in May, when Kassow joined her father on the set of "Who Will Write Our History?" a documentary based on his book about the Warsaw ghetto's "Oneg Shabbat" archive. The day after receiving her theater studies degree from Boston's Emerson College, Kassow flew to Poland for what she called "an incredibly personal month." Having heard she was a theater student, the film's producers cast Kassow as a featured extra. On ghetto sets in Warsaw and Lodz, she portrayed a typist preparing reports for the clandestine archive, from which 25,000 documents have come down to history."
Read entire article here: