Written by: Michael Lestz, Associate Professor of History
In January 2017 twenty-two students and faculty from Trinity College took part in an eighteen-day trek along the Tamang Heritage Trail in the northern area of Nepal close to the border with Tibet. All the trekkers were lured to Nepal by its spectacular mountains. Among the faculty leaders who joined the expedition were Professors Craig Schneider of Biology, Richard Prigodich of the Chemistry Department, and Coach Anne Parmenter who leads Trinity's field hockey team. Schneider and Prigodich have led numerous similar expeditions in Nepal or Tibet in past years and Coach Parmenter is a supremely competent mountaineer who summited Mount Everest from the Tibetan side in 2006. Professor Christoph Geiss from Environmental Science, an experienced mountaineer and nature photographer, was also on board and created a spectacular photo record of the rugged terrain we crossed.

Some of the student participants were seasoned outdoors people, but a few were new to such an endeavor and they learned much about the pahad (foothills below 15000 feet) of the Himalayas through rugged days trudging along rock-strewn trails. In a mountain range studded with seven thousand meter peaks, the word 'foothill' has a special connotation since the starting point for most treks is already quite high by the standard of world mountains. In our case, the paths we covered together rarely dipped below ten thousand feet.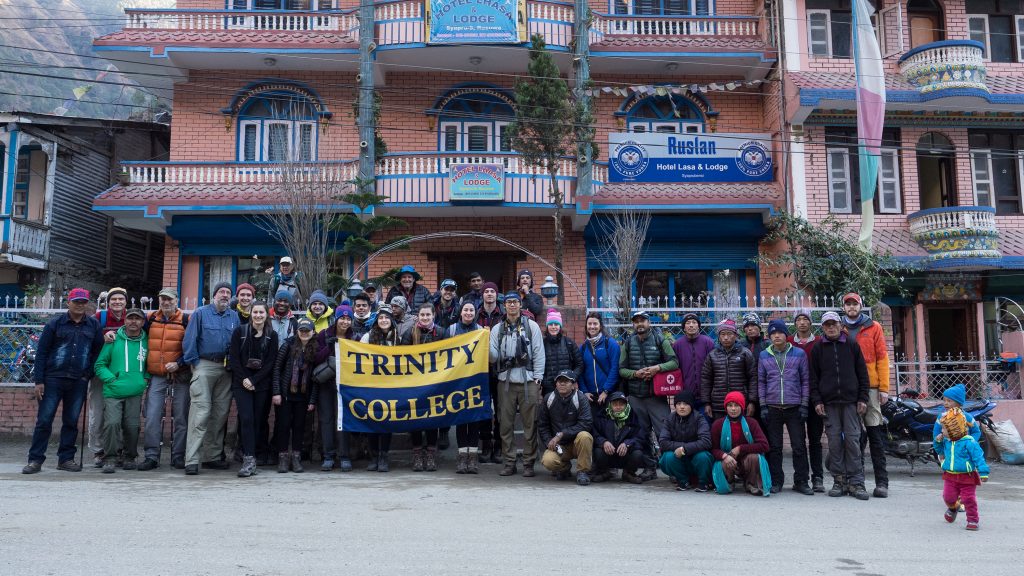 This was my eighteenth Trinity trek in Nepal or Tibet since I directed Trinity's Kathmandu Global Learning Site in 2001. In the past, such endeavors whether undertaken as independent studies or part of standing courses, were credit bearing, but, in practice, they rarely occurred and when they did, the teaching was offered pro bono. Indeed, I often felt that I was on the curricular margin since no other colleagues—with the exception faculty on the teams that traveled to the Himalayas–undertook such work.
Later, as Chair of the Financial Affairs Committee, I served with Paul Lauter and Sonia Cardenas on the PBC committee that proposed a three-year J-Term pilot program. This year was third of this experiment and the largest for J-Term so far. As a new participant, I am happy about the result; J-Term afforded me a new way to introduce students to alpine life in a region so remote as northern Nepal.
In this endeavor as in so many others over the last ten years, I was deeply grateful to the O'Neill Asia Cum Laude Endowment and the Charlotte Riggs Scholarship Fund, and the Class of 1963 Scholarship for providing valued help to students as this latest academic journey took form. In the future, it is my earnest hope that the College will provide adequate scholarship funding to permit more students to join such classes.
During the course of the trek, the J-Term students were able to enjoy the spectacular scenery just south of the Langtang range and gain an understanding of the Tamang and Tibetan people who live in the high country hours north of Kathmandu. They also came to understand the effects of the disastrous 2015 Gorkha Earthquake, which was nothing short of catastrophic for the Tamang and their Tibetan neighbors in this sparsely inhabited region.
Whole villages were leveled by this magnitude 7.8 quake and the number killed throughout Nepal totaled over 9000. As we returned to Hartford, a number of well-researched short papers produced by Trinity J-Term students focused on the impact of this natural disaster on Nepali children or warp and weft of village life in the Himalayan pahad.
Creating opportunities to draw Trinity College students into the Asian world to undertake research in the field is a vital part of our academic program. These efforts demand much from all concerned and form a great opportunity for students to come to know faculty. During the weeks of a Nepal trek, all participants are joined in a 24-7 enterprise that eventuates in a multi-layered exploration of Himalayan life and culture. It is always a privilege to be part of a learning experience capable of carrying our students so far.