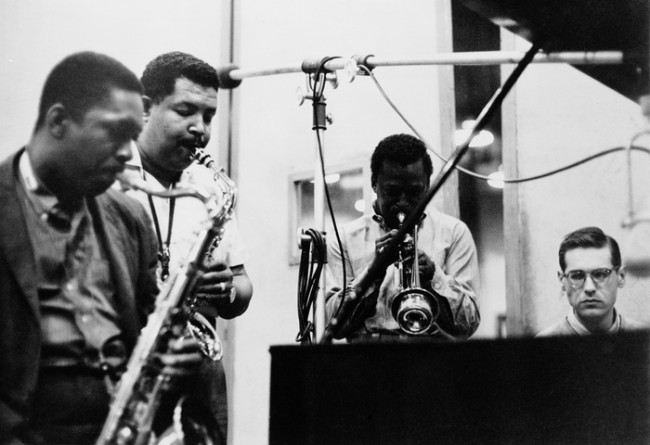 Do you prefer to write to music? What music do you like to listen to when you write? Does playing music depend on where you are at in the writing process? Can you only listen to music without lyrics? These were the kinds of questions posed to both students and faculty in the History Department. The answers may very well surprise you, but you'll have to listen to find out. Here is volume one (with more to come) and an insightful reflection provided by Prof. Bayliss on one of his favorite songs to write to: Miles Davis' "All Blues" from the classic album Kind of Blue. Enjoy.
Volume 1 Playlist (Listen HERE)

1. "Boccherini La Musica Notturna Delle Strade Di Madrid No. 6, Op. 30" – Master and Commander Movie Sountrack (Brooke Grasberger, Class of 2012)
2. "Musica Antigua" – Baroque (Prof. Kete)."
3. "Les Miserables" (Erin Dorsey, Class of 2012)
4. "Cantata" – Bach (Joseph Laws, Class of 2012)
5. "Monsieur Le Maire De Niafunké" – Ali Farka Toure (Prof. Markle)
6. "All Blues " – Miles Davis (Prof. Bayliss)
7. "Tangled Up in Blue" – Bob Dylan (Prof. Masur)
__
Miles Davis' "All Blues" by Professor Bayliss
Miles Davis' "All Blues" is not the kind of song I typically listen to when I start writing something new. I turn to this song when I'm working on a piece of writing that I've already been working on for a while, especially if I'm trying to do it late at night (which is when I seem to do a lot of my writing). For me this song is a musical representation of the experience of trying to put ideas into words, or maybe it's the experience of trying to construct ideas out of words – take your pick. The plodding, almost brooding feel that "All Blues" opens with captures for me the essence of just how arduous writing can be at times. Bill Evans' rumbling on the piano keys during this section evokes the tension that is part of the writing process – especially when it isn't going all that smoothly. For me, this is the wall that we all hit from time to time: even if the words come, the right words refuse to. This is the slow, slugging, slogging experience of writing that I know only all too well.
But every so often you get lucky. You hit your stride, and the words come in whole blocks, then flow forth in sentence after sentence. The ideas seem to write themselves with a freedom and ease that nearly removes you from the process. "All Blues" shifts into this terrain at the 1:46 mark, in the section where Miles, Coltrane and "Cannonball" Adderley take turns soloing over Evans' chromatic tones. The song moves along at a relaxed but purposeful pace. When writing flows like this, it's tempting to call it "effortless," but I won't, simply because even when the words flow smoothly and the ideas seem to fall into place of their own will, writing is never effortless. But the thrill of watching what you have to say take shape before your eyes – especially after struggling with it for hours, days, or even weeks at times – makes the task so much lighter.
From the 9:28 mark on, we return to the plodding tones that began the song, but somehow it seems a little less tense to my ear – and little more purposeful and assured. Perhaps I listen to this song to try to get my writing and myself to this state of mind. You can't solo forever, but you can keep making headway to a steady rhythm. That and the occasional soloist's epiphany will take you far.
(Mixed & Mastered by Afrika @ Work, WRTC, 89.3)