A Bunch of Good Eggs
Bella Lee '21
Bella Lee is a Trin sophomore and double major in economics and psychology. She came all the way to Hartford from Seoul, South Korea. Now settled on campus, she is the public relations chair of the Asian American Student Association (AASA), a member of EAC Barnyard's design crew and the AMA (American Marketing Association), and a marketing staff member for the Center for Student Success and Career Development. This past summer, Bella worked as a marketing intern for CJ logistics and learned a lot about current marketing tactics. Most of Bella's hobbies and jobs are related to communications, and because of this, she is very passionate about learning more about marketing strategies and graphic design. Bella strives to improve her skills with Adobe Illustrator and Photoshop. In her free time, she enjoys visiting local museums, watching movies, and taking photographs.
Bella is excited to work in the "Enter the Coop" beat. You can find her working as a student photographer at assigned campus events and sharing the content via social media. She believes that well facilitated social media can bring students together at exciting events, and build a more inclusive community.
Federica Cristofanilli '20
Federica Cristofanilli is a junior student-athlete majoring in political science and double-minoring in urban studies and writing, rhetoric and media arts. Federica, a native of Philly, is a player on the women's tennis team, and she is currently serving as the co-chairman and women's tennis team representative on the Trinity College Student-Athlete Advisory Committee (Trinity SAAC), as well as serving as the chairman of the New England Small College Athletic Conference Student-Athlete Advisory Committee (NESCAC SAAC).
Federica's beat is "Around the Flock" in which she will be enlisting students for Instagram takeovers and #BantamsSpotlight features, curating student life photography, and creating content for "From the Nest," which includes pieces about campus events, campus need-to-knows, and overall happenings around campus. Federica has strong professional experience creating social content from her past internships, and she can't wait to cover content around Trin.
Be sure to check in and stay up to date with Federica!
Can often be found: Strolling around campus with a coffee in hand

Favorite thing to do on campus?: Quadding in the Spring

Favorite meal?: Breakfast at Peter B's

Favorite local restaurant?: Barcelona, West Hartford

Let's be social : Instagram – @federicacristofanilli
Kristen Morrisette '20
Kristen Morissette is a junior from Leeds, Maine, and double major in american studies and classical civilization. During her time at Trinity, Kristen has been an active member of the varsity swim team, president of the Food Recovery Network, and a member of the Green Campus club, and Habitat for Humanity. She is an ambassador for the Electric Zoo Festival and is a brand ambassador for multiple companies. During her junior year, Kristen spent a semester studying abroad in Florence, Italy where she studied Italian Renaissance art, Italian literature, and photography at Syracuse University in Florence.
Kristen is pumped to be involved with Trinity's social media and to engage with alumni as well as current and prospective Bants. She believes that music or "noise" is something that brings the Trin community together and wants to showcase that in various ways. She also believes that it's important for students to know about the music scenes both on and off campus. What better way to get to know a community and its culture than through music?! In her beat, "Bring the Noise," Kristen will be curating and compiling weekly Spotify playlists that feature music from around campus, while also sharing news and reviews from the music scenes around Hartford.
Can be often be found at: The Cave

Favorite things to do on campus?: Trivia at Vernon Social and attend squash matches!

Favorite genre of music?: Electronic/dance

Other hobbies: Photography, drawing, yoga, movies, and DOGS!!

Let's be social: @krittan88 (Instagram)
Eric Zhang '22
I'm Eric, a member of #TrinColl2022. I would describe myself as an adventurous street photography enthusiast. Street photography allows me to capture the most dramatic moments, and to express my understanding of the world through an image. You'll always find me with my camera. Photography is like my second life and my camera's viewfinder is my second vision. A friend once told me that street photography is similar to taking a gamble since you never know what kind of people you'll meet or what you'll observe. That surprise is what makes street photography exciting.
My experience tells me that what I do really makes a difference, and I consider myself to be one of the most fortunate students since I found multiple ways to pursue what I am passionate about in college. I believe in the influence of media and especially people. That's why I am a SoMA.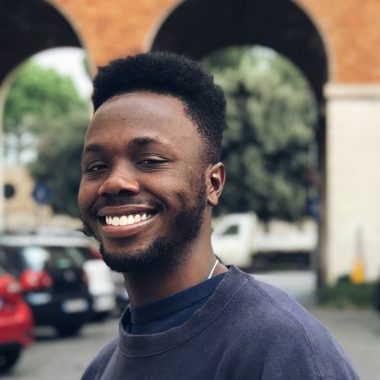 Jyles Romer '20
Hi everyone, my name is Jyles Romer'20, and I'm a psychology and sociology major from the Bahamas. I'm a member of the Men of Color Alliance (MOCA), Caribbean Student Association (CSA), and a former P.R.I.D.E leader. In the spring of 2018, I walked onto the men's track team.
I recently studied abroad in Rome and shared my experience by taking over Trinity College's Instagram account. I am grateful and excited to work on social media projects at Trin. In my beat "Around the Flock," I hope to create content that students feel proud of and that appeals to the Trinity population.
Favorite movie: Goodwill Hunting

Favorite artist: Travis Scott, Hayley Williams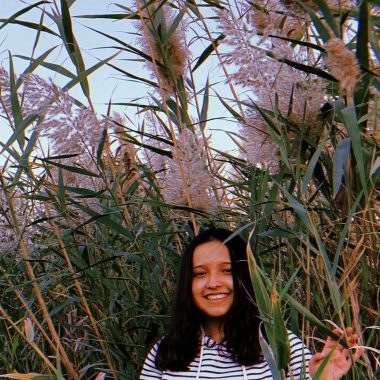 Wendy Salto '22
Wendy Salto is a first-year anthropology major and a potential minor in community action. She is from the southwest side of Chicago, Illinois.
Wendy participated in several pre-orientation programs, including Venture, P.R.I.D.E, and First Gen. She has volunteered with Cinestudio, JELLO, and Habitat for Humanity. Currently, she is the freshman representative for The Mill and is also a part of Temple of Hip Hop.
She has traveled to Nicaragua, two regions in France, Israel, and Palestine.
In her beat "What's Hatching," Wendy will help produce content for Instagram Stories as well as record and edit student features. She believes it is important that every student finds a home and community here at Trin. She loves meeting new people and finding out strange fun facts about them. Follow along with her to see where the next seasons of Camp Trin take her!
Favorite spot on campus: Level B or 1 in the Library

Favorite things to do on campus: Eating lunch at Mather (yuuuuuummy!) and going to weekend concerts at The Mill.

Peter B's or The Underground?: The Underground, duh!

Favorite ice cream flavor: Chunky Monkey

Is cereal soup?: Yes.

Favorite topic to talk about?: Chicago

Let's be social: @mamagrumps (Instagram)
Brooke LePage '19
Brooke LePage is a senior public policy & law major from Franklin, Massachusetts. During her time at Trin, Brooke has been a manager at the student calling center, chapter president of Alpha Chi Omega, a teacher's assistant for the public policy department, part of a student working group addressing sexual misconduct, and is currently a tri-chair of the Senior Class Gift (SGC) committee. During her junior year, Brooke spent a semester in Washington D.C. taking courses through American University's School of Professional and Extended Studies' Washington Semester Program and interned at the United States Department of Education as the Higher Education Intern in the Office of Legislation and Congressional Affairs. Because of her passions for women's issues and education policy, Brooke is currently writing her senior honors thesis on Title IX.
Brooke is excited to be able to engage current and future Bants through social media. She believes it is important that students attend events outside of their comfort zones in order to meet new people and foster a sense of community and inclusivity. Additionally, she sees Trin's social media as a way to highlight various components of the campus community for prospective students thinking of attending Trinity. In her beat "Around the Flock," Brooke will be assisting with Trinity's social media outlets and writing blog posts in order to encourage students to do just that.
Favorite spot on campus: Peter B's or the benches underneath the trees between the Chapel and Office of Admissions

Favorite things to do on campus: Attend different events (especially when they have food) and Trincycle classes

Peter B's or The Underground: Peter B's!

Other hobbies: yoga and reading

Let's be social: @b_lepage (Twitter) and @b_lepage7 (Instagram)