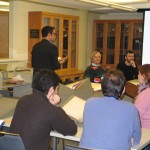 Last night we were happy to host Michelangelo Zaccarello (Università di Verona), a philologist and expert on book history, who held a two-hour "master class" seminar on several early printed books from Italy in the Watkinson's collection.
Professor Dario Del Puppo brought the group together, which included students from both Trinity and UConn.  Michelangelo provided a narrative about the history of each book (which included our copy of Galileo's Diologo (1632), 
and why he chose these in particular. He also emphasized the book market in Italy in the Renaissance and Early Modern period, and spoke with knowledge about the market conditions for these rarities today.