Announcing the acquisition of a couple of nuggets, recently plucked from the trade:
Two manuscript journals by different authors, one recording a seaman's nautical journey launched in 1881 from Saint John, New Brunswick, with stops at Saint Pierre, Long Harbor, and Halifax; and one a Brooklyn man's 1885 trip to Florida by way of Alabama, Mississippi, Louisiana, and Georgia, mostly via train.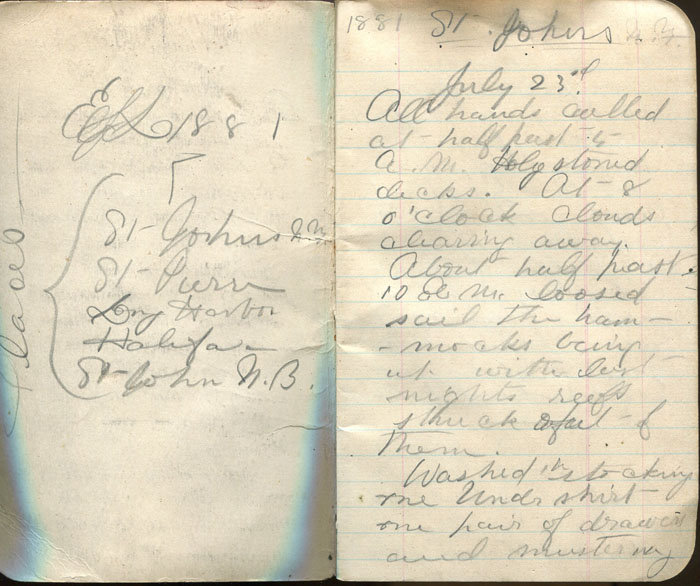 The sea journal describes the sailor's never-ending efforts to keep the decks clean with sand and holystone and to keep himself clean as well; when no such labor is required, he reads "newspapers and history" or studies navigation and geometry, with a trip ashore noted for "target practice."  There is one account of a fierce and damaging storm, and another of the attempted rescue of a steamer wrecked near Halifax; a Newfoundland 5-cent stamp with an image of a seal is pasted into the book.  At one point a lieutenant reads "the Articles of War"; it is possible, then, that this journal was kept on a Royal Navy vessel.
The Florida journal describes a visit to 1884 World's Fair in New Orleans (the World Cotton Centennial Exposition) and includes a list of "Bird skins collected in Halifax River Region – 1885" as well as a lengthy itemization of travel expenses and another of birds seen or heard "during a walk 3 miles north of Jacksonville on afternoon of Feb. 7/85"
Tags: New Acquisition