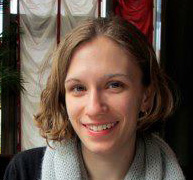 Julia Falkowski '13, who was a Creative Fellow in the Watkinson in the Fall of 2012, and majored in English and American Studies, has won the
New England American Studies Association
's Lisa MacFarlane Prize for the year's best undergraduate thesis.  One of her faculty advisers cited her work with the Watkinson as being a key element in her approach to original sources.
     Julia won for her essay, "The New Literati: Sarah Josepha Hale and Edgar Allan Poe in Nineteenth-Century Literary Culture," which she wrote as a one-semester thesis in the English department this past spring.  Julia now lives in Washington, D.C., where she is pursuing a graduate degree in Museum Studies at George Washington University.
     We offer Julia our heartfelt congratulations, and wish her all the best!