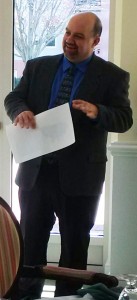 It was my pleasure to give a talk last week to a local chapter of the DAR on the life of John James Audubon, and specifically our copy of Audubon's Birds of America, and its donor, Dr. Gurdon Wadsworth Russell, Trinity Class of 1834.
In 1839, after finishing the production of the plates, Audubon's engraver Robert Havell moved to America. Almost forty years later in 1878, shortly before his death, he held an exhibition and sale at his home in Tarrytown of paintings and books—including our copy of Audubon's Birds of America. They were purchased at the sale by a New York book dealer/publisher, C. S. Francis & Co., who in 1856 had charge of the sale of all of Audubon's works. The set was sold the same year to Dr. Gurdon Russell, Trinity Class of 1834. Mention of this sale was made four years later in the December 1882 issue of Ornithologist & Oologist; the article stated, "The Doctor (G. W. Russell, 490 Main Street, Hartford, CT) also owns the Robert Havell copy of Audubon's Birds, Double Elephant Folio. The copy cost $1150 and the table and roller drawers in which to keep it $100 new. Some years ago we furnished to the Doctor a letter from Robert Havell to one of Audubon's sons stating that every plate was carefully selected as he was colouring the work, making it one of the best, if not the best, copy known."
22 years later, an article ran in the Hartford Courant on July 11, 1900:
Fine Gift to Trinity / Dr. Russell Presents his splendid copy of Audubon Birds
Dr. Gurdon W. Russell of this city yesterday gave to the library of Trinity College the most valuable single work ever received by it in the course of its history. The work is none other than that monument of American genius and enterprise, "The Birds of America: From Original Drawings, by John James Audubon." Dr. Russell visited the College in person yesterday morning and formally presented the work to President Smith. The extreme rarity and costliness of Audubon's "Birds" has long made it famous in the book-world, and its deserved reputation of being by far the most sumptuous single ornithological work ever published has rendered its name well known to the general public, though few ever see a really fine and complete copy.
From 1897 until 1909, when Dr. Russell died at the age of 93, he enjoyed the status of being the oldest living graduate of both Trinity College and the Yale Medical School—he entered Trinity College (then named Washington College) in 1830, six years after its founding. Russell was born on April 10, 1815 in Hartford, the same year that Audubon's daughter Lucy was born in Louisville, KY (she died 2 years later). His father was a printer who was born in Litchfield in 1790 and came to Hartford in 1812; his paternal grandfather was John Russell, a soldier in the Revolution who served in Boston, Long Island, and White Plains. Dr. Russell's mother was the daughter of Gurdon Wadsworth, a lineal descendant of William Wadsworth, one of the first settlers of Hartford who came with Thomas Hooker.
Needless to say, Dr. Russell was one of the patricians of Hartford, and the list of his accomplishments was long and illustrious—having worked for Aetna for some 60 years. At his death he gave the College the REST of his natural history collection, numbering over 275 items of British and North American flora and ornithology, and including some of the great rarities we have at Trinity, including Audubon's famous Quadrupeds of North America (folio) and the first and third editions of Mark Catesby's Natural History of Carolina, Florida and the Bahama Islands, containing the figures of birds, beasts, fishes, serpents, insects, and plants, published in 1738–100 years before Audubon's Birds of America, and a cornerstone of any collection of American natural history.