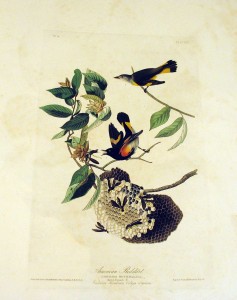 "This is one of the most lively, as well as one of the handsomest, of our Fly-catchers, and ornaments our woods during spring and summer, when it cannot fail to attract the attention of any person who may visit the interior of the shady forests. . . .
It keeps in perpetual motion, hunting along the branches sidewise, jumping to either side in search of insects and larvae, opening its beautiful tail at every movement which it makes, then closing it, and flirting it from side to side, just allowing the transparent beauty of the feathers to be seen for a moment . . .
I have looked for several minutes at a time on the ineffectual attacks which this bird makes on wasps while busily occupied about their own nests. The bird approaches and snaps at them, but in vain; for the wasp elevating its abdomen, protrudes its sting, which prevents its being seized.  The male bird is represented in the plate in this posture."
–J. J. Audubon, Ornithological Biography, I (1831), 202-203 [excerpted].