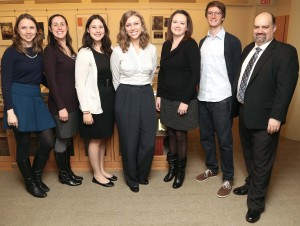 It is somehow fitting that my 300th post to this blog is about our student exhibition opening on Wednesday night (12/10), which was a solid success, and drew almost 30 students and staff who heard the presentations with interest.
Filling the occasional gaps in conversation, and providing an excellent backdrop as always, was our resident piano player Romulus Perez.
All six shows will be up through June 30th, and catalogs will be available for those who stop in to see them (Monday – Friday, 10:00am – 4:30 pm).
The shows are:
Voices for the Vote: What Women were Saying and Reading during the Fight for Suffrage (Gaia N. Cloutier '16)
The Impossibility of Translating Culture (Alix A. de Gramont '15)
Aotearoa: The Land of the Long White Cloud (Quirin A. Sackmann '15)
Vinegar Valentines (Meghan E. Shaw, graduate student)
Shall We Dance? The Evolution of Etiquette on the Dance Floor (Karen J. Tuthill-Jones, graduate student)
Functional Pottery in America (Mariah J. West, graduate student)