This week saw a rare happening in the Watkinson: two presentations using the exact same materials for separate classes at separate institutions!
On Monday night, profesor Scott Gac (Trinity) brough his HIST 354 class in to look at materials related to slavery in the Watkinson, which included a set of slave shackles recently donated to us, two manumission documents, and two bills of sale for slaves.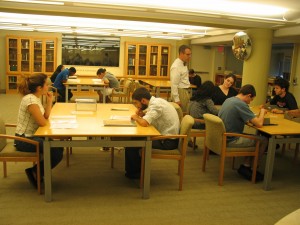 On Tuesday night, professors Bryan Sinche and Sarah Senk (University of Hartford) brought the students in a Senior Capstone Course to look at the very same items, with the addition of published slave narratives and publications of the American Colonization Society–including our very fragile issues of The Liberia Herald.