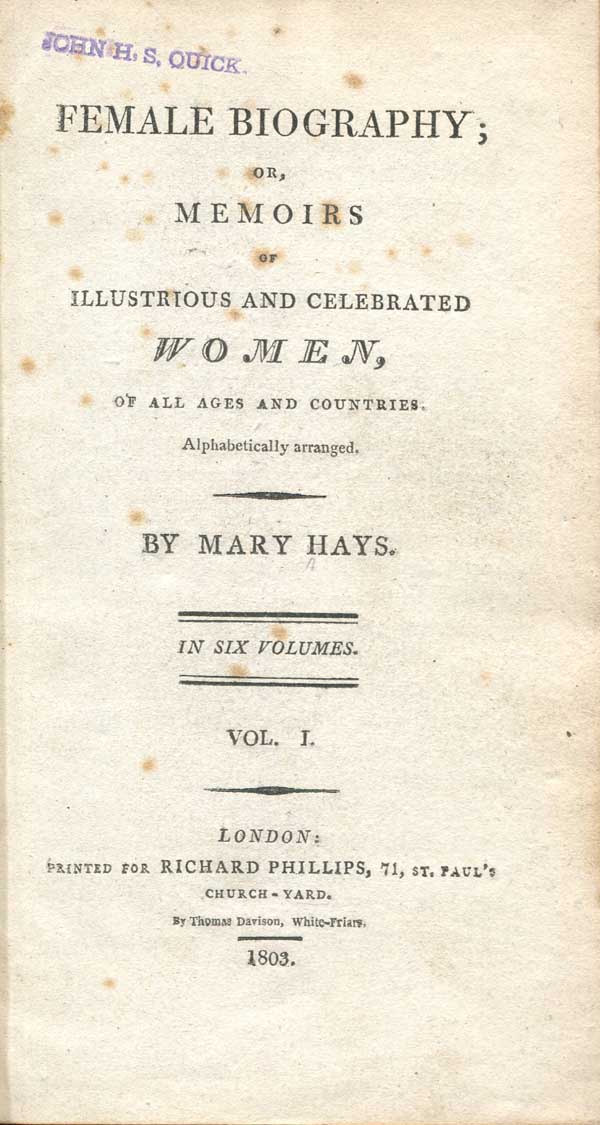 Mary Hays dedicates this Female Biography (biographical essays of almost 300 women in history) to "the rising generation [of women] who have not grown old in folly,  whose hearts have not been seared by fashion, and whose minds prejudice has not yet warped."
Hays (1760-1843) was a feminist, the child of Rational Dissenters (who believed that state religions impeded freedom of conscience, and that concepts like original sin and the trinity were irrational), and a friend of Mary Wollstonecraft (whom she met in 1792).  She treats queens & empresses (Elizabeth I, Catherine II), writers (Anne Bradstreet), and even semi- mythical figures (Dido and Boadicea).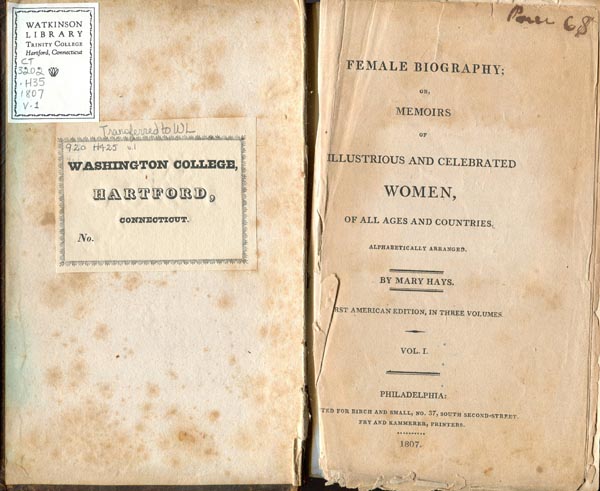 The Watkinson has both the first English (6 vols, London, 1803) and the first American (3 vols, Philadelphia, 1807 ) editions.  As you see from our copy of the latter, it has been in the library for at least 165 years (note the bookplate–Trinity was called Washington College from 1823-1845).
The coverage is quite uneven, with some women (Madame Bontems) getting scarcely a paragraph, while others run almost 150 pages (Catherine I).
Want to find them?  Here:
http://library.trincoll.edu/voyager/shortcut.cfm?BIBID=564370  (London)
http://library.trincoll.edu/voyager/shortcut.cfm?BIBID=50783  (Philadelphia)
This entry was posted on Monday, August 30th, 2010 at 9:03 pm and is filed under
Uncategorized
. You can follow any responses to this entry through the
RSS 2.0
feed. Both comments and pings are currently closed.