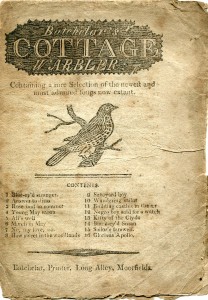 Here is a sweet little item we acquired last week–the only other copies I can find are at Yale and the British Library.
Songbooks like this are truly ephemeral pieces of popular culture, and in the mass are invaluable for the windows to the mores of their times.  We have hundreds of songbooks, both religious and secular, as well as over 25,000 pieces of sheet music in the Watkinson–see our guide here: http://library.trincoll.edu/research/watk/documents/watkguidesmusic.pdf
Of particular interest in this collection to me personally are numbers 12 & 15.  Number 12, "Negro boy sold for a watch" is a 24-line guilty lamentation of a person who sold a boy into the Atlantic slave trade for "this poor simple toy."  Number 15, "Sailor's Farewell," is a sailor talking to potential sweethearts about his actions during the Anglo-Egyptian War of 1807.
Tags: New Acquisition, ornithology
This entry was posted on Monday, July 18th, 2011 at 11:55 am and is filed under
Uncategorized
. You can follow any responses to this entry through the
RSS 2.0
feed. Both comments and pings are currently closed.