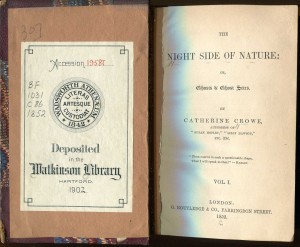 The night side of nature: or, ghosts and ghost seers, by Catherine Crowe (London, 1852 [3rd edition]). This was the most popular and influential work on paranormal phenomena in the nineteenth century. The author recounts hundreds of "authentic" tales of supernatural occurrences, including premonitory dreams, poltergeists, and döpplegangers, in a passionate plea for scientists to conduct serious investigations into these strange occurrences. She was "a hugely important figure in the emergence of modern ghost-seeing culture chiefly because of her relentless calls for society to turn its attention to the unexplained phenomena in its midst and investigate them in an objective manner." (McCorristine, Spectres of the Self: Thinking about Ghosts and Ghost-Seeing in England, 1750-1920, p. 10). A sensation in its day, this work introduced many Victorians to the occult, and is considered to have "marked the turning point in society's relationship with the paranormal." (Evans, Intrusions: Society and the Paranormal, p. 88).
Crowe (1790-1872), a noted English novelist, was a popular figure who socialized in the same circles as Dickens, Thackery, Hans Christian Anderson, and Charlotte Brontë. She became a celebrity advocate for scientific research into the occult with the publication of  The night side, and is credited for introducing the German word poltergeist into the English language with this work (see Blum, p. 15). She was the object of scandal in 1854 when reports circulated that she was found wandering nude and deranged on the streets of Edinburgh—a claim she adamantly denied.
This entry was posted on Wednesday, August 31st, 2011 at 5:12 pm and is filed under
Uncategorized
. You can follow any responses to this entry through the
RSS 2.0
feed. Both comments and pings are currently closed.