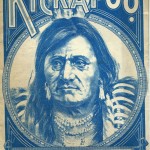 Recently acquired is a piece of ephemeral printing often associated with the traveling medicine shows.  The Kickapoo Indian Medicine Company (headquartered in New Haven, Connecticut) published a variety of booklets and other advertisements to promote their products.
A great site which outlines the history of the company is here.
And here are some of the advertisements inside:
Tags: New Acquisition
This entry was posted on Thursday, October 6th, 2011 at 2:02 pm and is filed under
Uncategorized
. You can follow any responses to this entry through the
RSS 2.0
feed. Both comments and pings are currently closed.