The white-throated sparrow.
"This pretty little bird is a visitor of Louisiana and all the southern districts, where it remains only a very short time . . . How it comes and how it departs are to me quite unknown.  I can only say, that, all of a sudden, the hedges of the fields bordering on creeks or swampy places, and overgrown with different species of vines, sumach bushes, briars, and the taller kinds of grasses, appear covered with these birds . . .
It is a plump bird, fattening almost to excess, whilst in Louisiana, and affords delicious eating, for which purpose many are killed with blow-guns.  These instruments . . . are prepared by the Indians, [and are] sufficient to propel such an arrow [i.e., dart] with force enough to kill a small bird at the distance of eight or ten paces.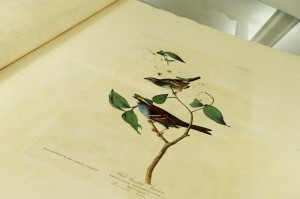 The tree is a Dogwood.
This entry was posted on Monday, November 14th, 2011 at 9:25 pm and is filed under
Audubon
,
exhibitions
. You can follow any responses to this entry through the
RSS 2.0
feed. Both comments and pings are currently closed.