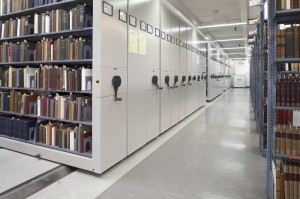 One of the more important aspects of overseeing a facility the size and value of the Watkinson is to control the environment.  Leaky pipes, faulty HVAC systems, cracks in the foundation, and vermin (mice, bugs, naughty readers) are all potential threats to the collection, and must be kept at bay through CONSTANT VIGILANCE.  Fortunately, Associate Curator Sally Dickinson is on the case, as she reports on a recent activity:
"This September I attended a 2-day workshop on "Sustainable Preservation Practices for Managing Storage Environments."  R.I.T.'s Image Permanence Institute presented the workshop at the Folger Shakespeare Library, Washington, DC (funded by the National Endowment for the Humanities.)  Curators, librarians, and facilities professionals attended, including staff from the Smithsonian Institute and other cultural organizations in the Northeast.  We had a crash course in how artifacts age, what makes an optimal preservation climate to prolong the life of materials, and how to achieve these conditions through sustainable use of climate control systems.  The Image Permanence Institute is a leader in the research of how materials age and climate management strategies for cultural institutions."
This entry was posted on Friday, October 5th, 2012 at 6:44 pm and is filed under
News
,
Preservation & Conservation
. You can follow any responses to this entry through the
RSS 2.0
feed. Both comments and pings are currently closed.