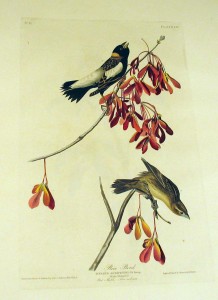 "[In Louisiana] they pass under the name of Meadow Birds.  In Pennsylvania they are called Reed Birds, in Carolina Rice Buntings, and in the Sate of New York Boblinks.  The latter appellation is given to them as far eastward as they are known to proceed for the purpose of breeding . . .
About the middle of May . . . they have become so plentiful, and have so dispersed all over the country, that it is impossible to see a meadow or a field of corn, which does not contain several pairs of them.  The beauty, or, perhaps more properly, the variety of their plumage, as well as of their song, attracts the attention of the bird-catchers.  Great numbers are captured and exposed for sale in the markets, particularly in those of the city of New York.  They are caught in trap-cages, and feed and sing almost immediately after.  Many are carried to Europe, where the shipper is often disappointed in his profits, as by the time they reach there, the birds havbe changed their colours and seem all females . . .
No sooner have the young left the nest, than they and their parents associate with other families, so that by the end of July large flocks begin to appear . . . Now begin their devastations.  They plunder every field, but are shot in immense numbers"
–J. J. Audubon, Ornithological Biography, I (1831), 283-285 [excerpted].
This entry was posted on Thursday, November 1st, 2012 at 6:10 pm and is filed under
Audubon
,
exhibitions
. You can follow any responses to this entry through the
RSS 2.0
feed. Both comments and pings are currently closed.