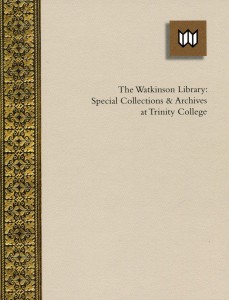 We have just published a new, full-color brochure, which gives a brief history of the Watkinson and an overview of the collections.  This beautifully illustrated gem will be available very soon.  Please e-mail me at richard.ring@trincoll.edu with your preferred mailing address for a copy.
This entry was posted on Wednesday, December 5th, 2012 at 4:17 pm and is filed under
publications
. You can follow any responses to this entry through the
RSS 2.0
feed. Both comments and pings are currently closed.