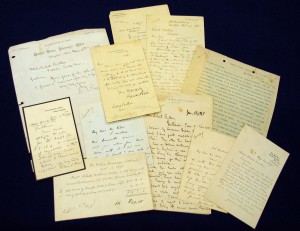 We recently acquired a packet of letters which will be added to our Roberts Brothers collection–an archive which compliments our extensive holdings of that publishing company's books.  The letters date from 1884-1895, and are from the following correspondents:
Lyman Abbott (1835-1922, American Congregationalist, ordering "[Ernest] Renan's Life of Jesus")
Alexander Black (1859-1941, American author & reviewer, requesting books to review for the Brooklyn Times)
Gertrude Hall (1863-1961, American author, poet & translator; two letters)
Ernest Ingersoll (1852-1946, American naturalist & writer, related to his story "Sacred Spring")
James Martineau (1805-1900, English minister, philosopher & author, regarding Hours of Thought)
Edward T. Roe (b. 1847, American lawyer & author, regarding a manuscript)
Flora L. Shaw (1852-1929, English journalist and author, thank-you note for royalties)
Reuben Gold Thwaites (1853-1913, American historical writer, two (2) letters, seeking "an Eastern publisher," which accompanied his manuscript of Afloat on the Ohio; the book was eventually published by a Chicago firm, Way & Williams, in 1897).
Julius H. Ward (1837-1897, a letter written on behalf of a Japanese author, Mr. Nobuta Kishimoto, who had written a book on Christianity)
This entry was posted on Wednesday, December 5th, 2012 at 7:49 pm and is filed under
book history
,
New acquisition
. You can follow any responses to this entry through the
RSS 2.0
feed. Both comments and pings are currently closed.