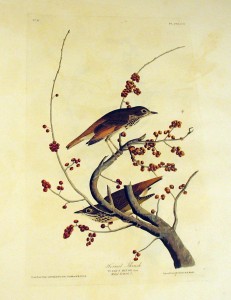 "This, kind reader, is another constant resident in the Southern States, more especially those of Mississippi and Louisiana, where it abounds during the winter months, and is found in considerable number during spring and summer.  In the lower parts of Kentucky, Indiana and Tennessee, it is also observed during spring and summer; but it becomes scarcer as you advance towards the Middle Districts, where a few are occasionally seen about the low woodlands of the Atlantic shores.
Except during winter, this Thrush prefers the darkest, most swampy, and most secluded cane-breaks along the margins of the Mississippi, where it breeds and spends the summer . . .
As soon as the waters of the Mississippi become so swelled as to overflow the banks, the Hermit Thrush retires to the to the nearest hills, and mixes with many other birds . . . "
–J. J. Audubon, Ornithological Biography, I (1831), 303-304 [excerpted].
This entry was posted on Wednesday, December 5th, 2012 at 3:33 pm and is filed under
Audubon
,
exhibitions
. You can follow any responses to this entry through the
RSS 2.0
feed. Both comments and pings are currently closed.