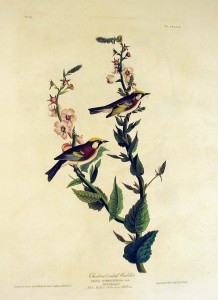 "In the beginning of May 1808, I shot five of these birds, on a very cold morning, near Potts-grove, in the state of Pennsylvania.  There was a slight fall snow at the time, although the peach and apple trees were already in full bloom.  I have never met with a single individual of this species since . . .
Where this species goes to breed I am unable to say, for to my inquiries on this subject I never received any answers which might have led me to the districts resorted to by it."
–J. J. Audubon, Ornithological Biography, I (1831), 306 [excerpted].
This entry was posted on Wednesday, December 12th, 2012 at 2:21 pm and is filed under
Audubon
,
exhibitions
. You can follow any responses to this entry through the
RSS 2.0
feed. Both comments and pings are currently closed.