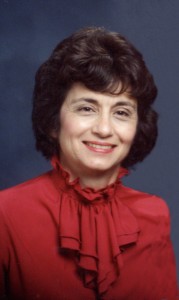 We are delighted to welcome the research archive of Geraldine S. Caughman (1933-2012) of Wethersfield, CT–an amateur historian who served for decades as a docent at the Old State House and the Capitol building in Hartford.  She was affectionately known as "the Flag Lady" around the Capitol.  In 2006 (revised 2011) she produced a multi-volume work on the regimental battle flags of Connecticut from 1856-1920, and her research papers will be invaluable to students studying Connecticut's role in the Civil War, the Spanish-American War, and World War I.
From "About the Author":
Geraldine (Gerry) Caughman joined the Connecticut Capitol tour guide program in 1979. With a passion for history, she immersed herself in research of the many stories of the Capitol, its history and its artifacts. Within a short while, she became one of the most knowledgeable guides about the Capitol's history and of our system of government. Visitors thoroughly enjoyed her tours and wrote numerous letters expressing their appreciation.
While giving tours, Gerry was attracted to the Capitol's 171-piece battle flag collection in the Hall of Flags. During the 1980s the Capitol building was undergoing a complete restoration. She feared for the safety of the flags during such an undertaking and volunteered to supervise their removal to storage. With the authorization of Legislative Management, she designed special crates to cradle the flags and had the Capitol's carpenters build them. She then enlisted the help of Boy Scouts, civic clubs and other interested parties, and in one busy day, all of the flags were safely transported away to storage. A love affair had been kindled.
When the flags returned to the Capitol, she embarked on a four-year long, arduous task of evaluating each flag, photographing, cataloging, marking and writing condition reports for each one. With so much flag work going on, Gerry soon became affectionately known around the Capitol as "The Flag Lady."
It was readily apparent to her that many flags in the collection required conservation. To that end, she diligently studied the various conservation methods and procedures, met with many conservators including the Smithsonian, the National Park Service and private companies. She also reviewed potential conservators and visited their labs in Washington, New Orleans, Indianapolis, New York, and Massachusetts. As funds became available for conservation, she wrote the specifications for each flag's unique conservation needs and oversaw the work in progress.
During these years, owing to heightened interest in the Civil War, many outside requests for flag information and pictures were received at the Capitol, all of which were referred to Gerry for a response. She realized that many of the flags would never be seen by others since they were in such fragile condition and conservation was extremely expensive. Thus was conceived the idea of writing a book with pictures of all the flags with commentary about them and the men who carried them. The initial book was written as cut-and-paste, but was not a good final product. She decided to rewrite the book and expand its content. Gerry spent years in our State Library and countless other libraries doing extensive research. She traveled to most all of the battlefields that Connecticut men fought on during the Civil War. The result was Qui Transtulit Sustinet, a 328-page Volume I about our 110 Civil War flags and a 177-page Volume II about our 61 flags from the world wars and contemporary conflicts. Her wish was to print thirty sets of these books to donate to historical institutions and libraries, some state and some national. The books were copyrighted in the name of the Capitol as her gift to Connecticut and in honor of those who have risked their lives over the years to protect our nation and to preserve our freedom. Through all of this, she continued a very active tour guide schedule. Some years her tours numbered as many as 114.
The number of flags on display grew as conservation progressed during her tenure. There are currently 92 flags on display in the Capitol's Hall of Flags with 79 in storage awaiting funding for conservation.
In March of 2011, Gerry was diagnosed with a health problem, which required that she retire from her beloved Capitol tours and the battle flag program. Gerry lost her loves, and the Capitol lost a dedicated and tireless volunteer.
This entry was posted on Friday, February 15th, 2013 at 9:07 pm and is filed under
Connecticut history
,
Gifts
. You can follow any responses to this entry through the
RSS 2.0
feed. Both comments and pings are currently closed.