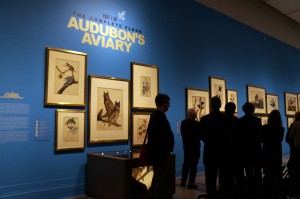 I was thrilled to be invited by the Alumni Office to speak about the Watkinson's collections related to natural history at an alumni event in New York.  The New York Historical Society has mounted the first of three exhibitions of Audubon's original paintings, most of which were used as the basis for producing the 435 aquatint engravings for his famous Birds of America (completed in 1838).
Over 40 alumni of Trinity College came out last week on a crisp evening to take a tour of the four large galleries which hold over 160 pieces of art, manuscript letters, and various small artifacts which comprise "Part I" of the exhibition.  You can hear the recent NPR story on Audubon, which mentions the exhibition.
Also joining us was professor Tom Wickman, who has structured a history course around our Enders ornithology collection.  We are team-teaching this course in the library, and were delighted that one of our students (and her parents) also made it to the event.
The Society's docents did an excellent job taking our two groups through the exhibition, explaining in broad strokes the very interesting life that Audubon led, which culminated in the production of his famous (and famously big) book.  After the tour, I spoke about our amazing copy of the Birds of America, the plates of which were selected and hand-colored by the engraver himself (Robert Havell, Jr.), and passed from his hands in 1878 to a book firm and then to a Trinity alum, Dr. Gurdon Russell (class of 1834).  Dr. Russel owned the set for over 20 years before giving it to Trinity College in 1900, where it has been kept safe and made available to students ans scholars for over a century.
I concluded my remarks by emphasizing the use to which we put these collections throughout the school year, through presentations, events, and initiatives like our unique Creative Fellowship Program.  We all had a great time, and I hope the alums will remember to visit the Watkinson when their classes return to campus for a visit to see the Audubon, which is on permanent display.
This entry was posted on Wednesday, March 27th, 2013 at 8:17 pm and is filed under
Audubon
,
Classes
,
Creative Fellowships
,
Events
. You can follow any responses to this entry through the
RSS 2.0
feed. Both comments and pings are currently closed.