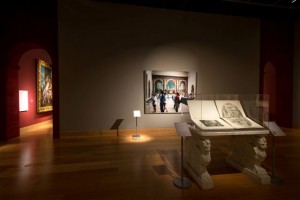 We are happy to welcome back our copy of Valentin Lefebvre's Opera Selectiora (Venice, 1682), which we loaned to the John and Mable Ringling Museum of Art in Sarasota, for an exhibition on Paolo Veronese.  Shown here is a shot of the book in their gallery.
The museum published a lavish catalog, a copy of which we received for contributing to the show.
This entry was posted on Friday, April 19th, 2013 at 9:13 pm and is filed under
exhibitions
. You can follow any responses to this entry through the
RSS 2.0
feed. Both comments and pings are currently closed.