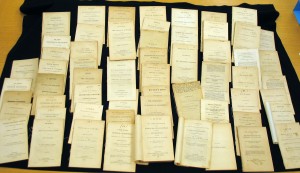 Recently acquired from a dealer in Philadelphia, almost 60 tracts related to a controversy that rocked the Scottish church in the 19th-century.  From about 1820 through 1843 the Church of Scotland was in turmoil over the question of lay patronage and its implications regarding civil authority over the church.  In 1843, after the "Ten Years' Conflict" between the evangelical and moderate branches of the church, the issues were temporarily resolved by "the Disruption," in which close to a third of the ministers of the Church of Scotland separated to form the Free Church of Scotland.  The upheaval prompted the publication of numerous pamphlets and treatises on the controversy, and its effects continued to be felt in Scotland for many years afterward.  This newly added collection contains works by many of the principal voices of the conflict.
This entry was posted on Thursday, April 25th, 2013 at 5:39 pm and is filed under
New acquisition
,
oppotunities for research
. You can follow any responses to this entry through the
RSS 2.0
feed. Both comments and pings are currently closed.