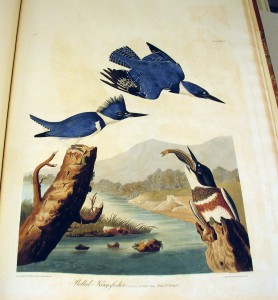 "The more usual range of the Belted Kingfisher . . . is confined to the rivers and creeks that abound throughout the United States; all of which, according to the seasons, are amply supplied with various fishes, on the fry of which this bird feeds.  It follows their course up to the very source of the small rivulets; and it is not unusual to hear the hard, rapid, rattling notes of our Kingfisher, even amongst the murmuring cascades of our higher mountains.  When the bird is found in such sequestered situations, well may the angler be assured that trout is abundant.  Mill-ponds are also favorite resorts of the Kingfisher, the usual calmness of the water in such places permitting it to discover its prey with ease."
–J. J. Audubon, Ornithological Biography, I (1831), 395 [excerpted].
This entry was posted on Thursday, May 9th, 2013 at 7:26 pm and is filed under
Audubon
,
exhibitions
. You can follow any responses to this entry through the
RSS 2.0
feed. Both comments and pings are currently closed.