On Tuesday, a dozen first-year students participating in the Bantam Beginnings program came to the Watkinson Library to look at several rare books featuring anatomical illustrations from the 16th-19th centuries.  Each student was to select a particular organ, system, etc. and compare how early anatomical illustrations compare to 21st century depictions.  This was part of The Skill in Observation and Communication in Art and Medicine program, facilitated by Professor William Church. 
We had set out 9 books, all open to anatomy illustrations. The students were not only engaged with the material, but also asked many questions—both about content and the books themselves. In several cases, the students asked for dictionaries to look up terms that they didn't understand instead of turning immediately to the internet for answers. The class was with us for about an hour with the students congregating around several of the texts, carrying on discussions about the content that ranged from questions about the images: "What is that?" "Is that a hip?" "What part of the brain is that?" "Are those lines veins coming out of the muscles?"
They were also curious about the way the images were depicted—questioning the artistic merit/content/liberties—and asking if the images were typical of anatomy books, or of iconography found in art of the period. One of the more interesting conversations that seemed to stem from the images was how the bodies for dissection were obtained. When one of the students realized that the bodies were often of the poor, lower classes, or prisoners, she took another look at the muscles that were depicted on the skeleton and said; "Then I guess he wasn't the most muscular specimen that they could find!"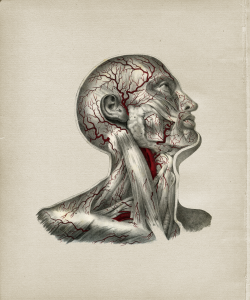 Students were particularly fascinated by illustrations in A series of anatomical plates; with references and physiological comments  by Jones Quain and W.J. E. Wilson, published in 1842.  This work stimulated many questions about specific organs and systems.  Also of great interest was the classic work Medici De humani corporis fabrica libri septem : Cum indice rerum & uerborum memorabilium locupletissimo,  by Andreas Vesalius, published in 1568.
[Posted by Watkinson staff Henry Arneth & Peter Rawson]