[Posted by Ashley Bissonnette, visiting researcher]
As Senior Researcher at the Mashantucket Pequot Museum & Research Center (Mashantucket, Connecticut) currently involved in Battlefields of the Pequot War and Battlefields of King Philip's War, I recently made a visit to Trinity, which has been significant. The library currently preserves the only known original manuscript of any Pequot War (1636-1637) narrative! The narrative was authored by Lieutenant Lion Gardiner, commander of Fort Saybrook during the Pequot War, in 1660 entitled Relation of the Pequot Warres.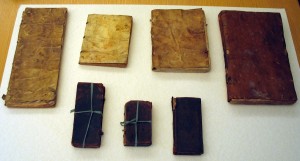 The archives also house the original medical accounts of Gershom Bulkeley, doctor for colonist troops during King Philip's War (1675-1676). "Gershom Bulkeley Coll. Box 1" contains information on the symptoms and treatment for many epidemical diseases in17th century New England – many of which changed the course of these early colonial battles and heightened the effect of conflict on Colonial and Native peoples alike.
Many thanks to the Watkinson staff for all their help in my research endeavors!