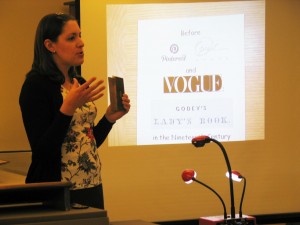 I'd like to give a shout-out to our wonderful NERFC Fellow Amy Sopcak-Joseph, a PhD candidate (History) at UConn, who gave a well attended lunch-time talk in the Watkinson on Tuesday entitled "Before Pinterest, Oprah, and Vogue: Godey's Lady's Book in the Nineteenth Century." In her own words:
Have a question about how to style your hair? Need a recipe for something healthy? Want recommendations for interesting new books? Or where you should buy new clothes and shoes? Twenty-first century American women have the answers to these questions and more at their fingertips. In the nineteenth century, most women turned to one source for all of these items: Godey's Lady's Book. Published by Louis Godey in Philadelphia from 1830 to 1877, this monthly magazine arrived in the homes of hundreds of thousands of women to answer these needs, and more. This talk explores how Godey adapted his marketing of and the advertisements in his Lady's Book to women's changing tastes prior to the Civil War. The ads in the magazine initially encouraged far-flung readers to purchase more reading materials, while Godey enticed readers with fiction by famous authors.  By the 1850s, readers received fashion plates sponsored by retailers, could order fashionable goods directly from Godey, and could even purchase Godey-branded sewing needles. At the same time, Godey advertised his magazine as "Useful, Ornamental, and Instructive," promising women recipes, clothing patterns, and tips for healthy living that would save them money.
This entry was posted on Thursday, September 24th, 2015 at 4:01 pm and is filed under
Americana
,
book history
. You can follow any responses to this entry through the
RSS 2.0
feed. Both comments and pings are currently closed.