[Posted by Peter Rawson, Associate Curator of Archives & Manuscript Collections]
The survey of the College Archives continues!  I happened upon a box on a high shelf that was deteriorating, crumbling, and very heavy.  As I pulled it off the shelf the box came apart.  I managed to place it in a secure location on another shelf before all of the contents fell to the ground.  To my surprise I found over 150 glass plate photographic negatives dating from around 1850-1923.
These images include portraits of faculty, campus exteriors, interiors–including some dorm rooms, track practice, and a photograph of the Cabinet Room in Seabury Hall, which was the college museum.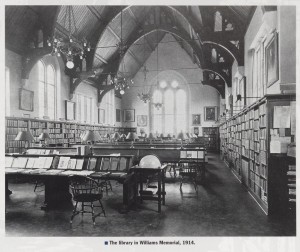 With assistance of Naty Bush, a first-year student, and Special Collections Assistant Henry Arenth, we were able to temporarily re-box the slides and evaluate their condition.  Next steps include more permanent re-housing and printing the slides.