[Posted by Ashley Esposito, a graduate student in American Studies doing an internship in the Watkinson]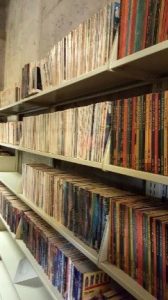 Leigh Couch Collection in progress…
This week my focus was on Analog Science Fiction. Originally published under the title Astounding Stories from 1937-1960 then making the transition to a few versions of Analog that juggled "science fiction," "science fact" and even "science fiction & fact." Analog published 664 volumes from 1960-2016. This collection includes volumes from 1960-1994. In the first picture you can see just how impressive that is. Our digital age has taken a toll on the tangible printed word so it makes this collection nostalgic.
The pictures show the progression from Astounding Stories to Analog and its further progressive reimagining. The progressively evolve from February 1960 and January 1961 you can see the stylized font associated with Astounding Stories (AS) continuing the visual character from its covers. On the top right cover from January 1963 you can see the title is Analog Science Fact Science Fiction complete with the symbol for that was created to the magazine to give the full title 'ANALOG – Science Fact is analogous to Science Fiction'. In 1966 the symbol all but disappears from the cover at yet it persisted on the binding until about 1974 where it seems to disappear completely.
The cover font and layout went through a few versions until the 1990s when it settled on its current presentation. The last photo is of the recently published November 2016.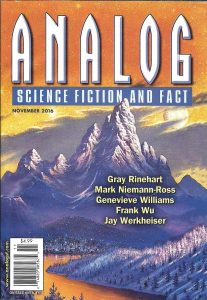 I enjoyed getting to know Analog not only because it is such a long-standing publication that gives a different insight into society but also because I can see some of my favorite concepts and images from science fiction being born on the covers and in the pages of Analog.
Additional Resources:
This entry was posted on Wednesday, November 16th, 2016 at 7:38 pm and is filed under
Gifts
,
Interns
,
oppotunities for research
. You can follow any responses to this entry through the
RSS 2.0
feed. Both comments and pings are currently closed.