THIS JUST IN!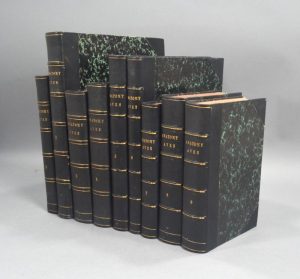 A collection of one hundred 18th and 19th century articles, offprints and monographs relating to bird anatomy in English, German, French, Dutch, Italian and Latin, and illustrated with 145 plates, mostly lithographs and engravings.
John Amory Jeffries (1859-1892) was one of the original active members of the American Ornithologists' Union founded in 1883, but his interest in ornithology had developed much earlier. He and his brother, W. A. Jeffries, performed active field work which gave him, even before he entered Harvard College in 1877, "an unusually thorough knowledge of local ornithology as well as a very considerable collection of birds." Although his love of field work continued, he turned his attention to anatomical and biological work while attending Harvard College (1877-1881) and, afterwards, Harvard Medical School (1881-1884). During those years he found time to do a surprising amount of anatomical and embryological work upon birds, giving his attention largely to the development of feathers and other epidermal structures. After receiving his M.D., he went to Europe for two more years of study, mostly at Vienna and Berlin. He returned to Boston in 1886, establishing himself professionally and continuing his ornithological studies until his premature death from pneumonia at age 33.
This entry was posted on Wednesday, November 16th, 2016 at 7:31 pm and is filed under
Natural History
,
New acquisition
,
ornithology
. You can follow any responses to this entry through the
RSS 2.0
feed. Both comments and pings are currently closed.