[Posted by Ashley Esposito, a graduate student in American Studies doing an internship in the Watkinson]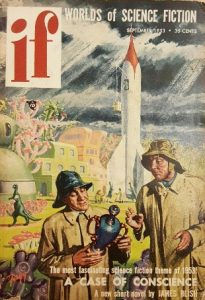 Leigh Couch Collection in progress…
This week I spent time with the If Science Fiction magazine, also know as the Worlds of If.  IF has 175 volumes published between March of 1952 and December of 1974. It was under the same publishing umbrella as Galaxy so it often shared authors, stories and advertisers. The Leigh Couch Collection has 130 volumes of the 175 printed.
Authors included Robert A Heinlein, Keith Laumer, James Blish, A E Van Vogt and Jacqueline Lichtenberg.
It has been suggested that both Galaxy and If did not get the recognition they deserved during the 1960s because of the sloppy printing and binding that is visible in both magazines. The content of the magazines was considered quality writing.  By comparison, the 1970s volumes are much better designed and bound. When you factor in the change in cover price in the 1960s of .35 to .60 in 1970s it is easy to see where the additional funds came from to present the magazine in a better light.
I also noticed in  IF that the normal mail order correspondence course and book order forms were replaced by full color advertising inserts for tobacco products. So it seems that If  began to take departure from Galaxy.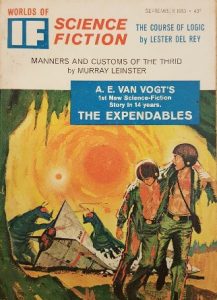 As I continue to explore this collection, I am overwhelmed by the diverse research potential and interest that exists within its pages.
Resources:
This entry was posted on Wednesday, November 16th, 2016 at 7:19 pm and is filed under
Gifts
,
Interns
,
oppotunities for research
. You can follow any responses to this entry through the
RSS 2.0
feed. Both comments and pings are currently closed.