Last night's gala opening of Majestic 12 was a great success!
More than 60 people came from as far as 100 miles away to attend the opening of our sixth annual showcase of student exhibitions, which is the product of American Studies 835, my Fall museum studies course.
The students installed a sample of their items in one case (each) in the reading room, which will remain up until June 30, 2017. Their full exhibitions are online as well, and links to all of the shows are HERE.
And here is a fuller album of photos on Flickr.
Copies of the booklet we published are available–please e-mail the Head Curator.
Many thanks to the students for all of their hard work this semester!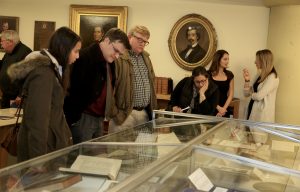 This entry was posted on Thursday, December 15th, 2016 at 3:22 pm and is filed under
Classes
,
exhibitions
,
students
. You can follow any responses to this entry through the
RSS 2.0
feed. Both comments and pings are currently closed.